7 Most Successful Shopify Stores (+ Elements You Can Steal From Them)
The good news is that starting a Shopify store is pretty easy. All you need is one hour and £40.
The bad news? There are about a gazillion eCommerce stores out there, so you'll need to make sure that your store is both well-designed and high converting if you want to have any chance of succeeding.
In this blog post, we break down 7 most successful Shopify stores, and discuss the various elements that you can "steal" from these stores.
Ready? Let's jump in!
#1: MVMT
One of the most successful Shopify stores we know of is MVMT, a modern watch and accessories label.
After launching an Indiegogo campaign back in 2013, MVMT quickly became a household name. All in all, they grew from US$1 million (~£772,800) to US$90 million (~£69,552,000) in sales in less than four years, which is a pretty amazing feat.
Element to steal: Shoppable Instagram feed.
It's no secret that MVMT relies heavily on influencers and influencer marketing to promote their products.
Now, the brand cleverly milks the Sponsored Posts that their influencers create for them by featuring these in a shoppable feed on its homepage: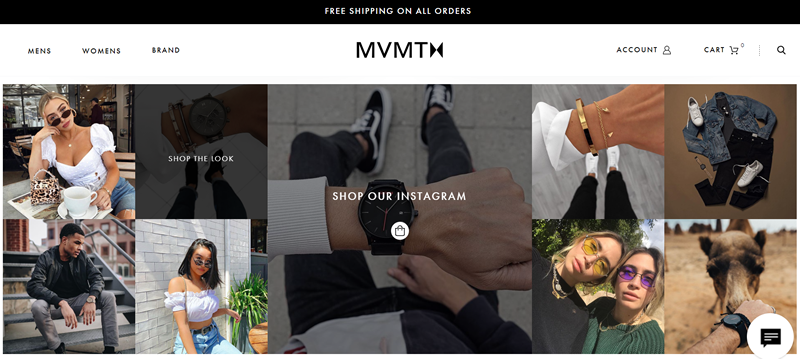 When you click on the feed, this redirects you to a landing page where you can filter the posts based on whether you're interested in men's or women's accessories:
Finally, when you click into a picture, MVMT displays the relevant product right next to the picture. There's also a handy "Add to Cart" button that allows you to purchase the product with minimal hassle: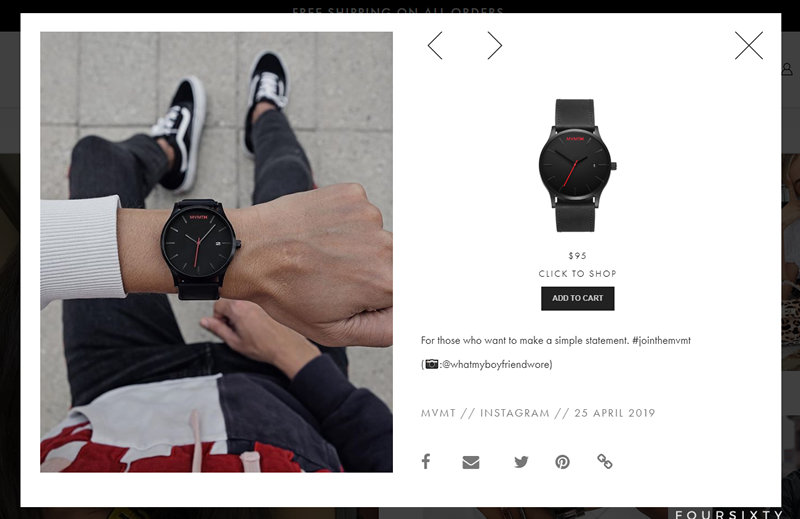 #2: ColourPop Cosmetics
Next on our list of most successful Shopify stores is ColourPop Cosmetics, which is an affordable beauty brand based in California.
While ColourPop's products retail at wallet-friendly prices, they turn over an estimated US$4 million (~£3,091,200) in revenue every year.
Element to steal: Robust review system
Now, what we like about ColourPop is the fact that they display their reviews loudly and proudly on their product pages:

When you click on the stars (or the text that says "40 Reviews"), you're automatically pushed down the page towards the review section.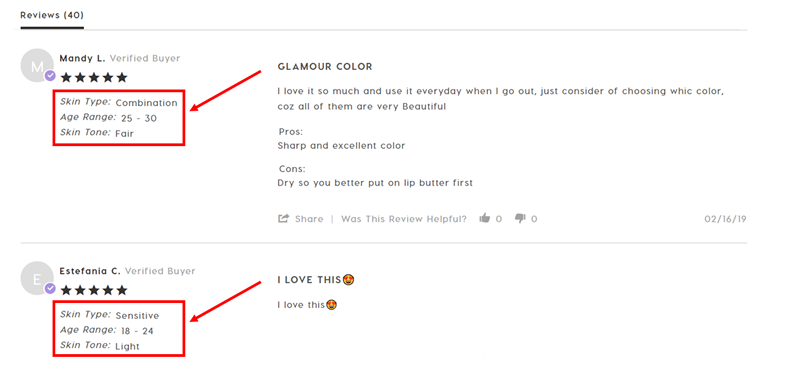 Apart from the actual reviews, ColourPop also displays related information from its reviewers, including their skin type, age range, skin tone, etc.
This provides their potential customers with more context, and allows them to be more confident in making a purchase.
Element to steal: Product "badges"
On top of that, we also like how ColourPop utilizes badges to highlight their bestsellers and their products which have won awards: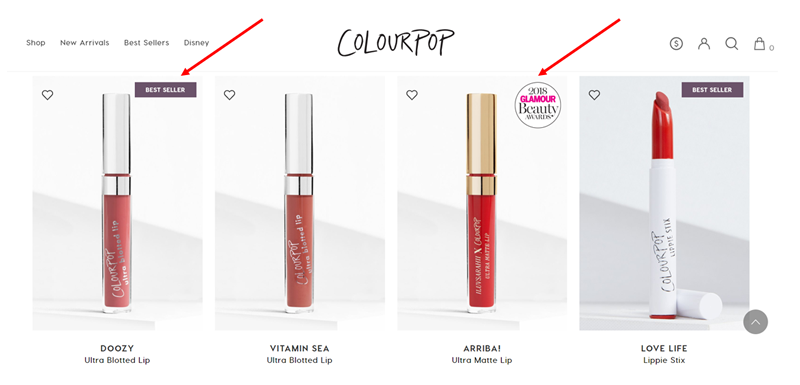 This helps to drive social proof, and increases their chances of converting a casual browser into a paying customer.
#3: Frank Body
Next up, we have Frank Body, an Australian skincare brand with a focus on natural, non-toxic ingredients.
Frank Body has been around since 2013, and some say they pioneered the coffee scrub craze, which involves using coffee grounds to exfoliate. The brand is now earning US$20 million (~£15,456,000) in annual revenue, and they're popular with skincare fanatics from across the globe.
Element to steal: Cart system
Now, you might be thinking: a shopping cart is just a shopping cart. What can you possibly do with it?
Well, if you can engineer your shopping cart to incentivize customers to shop more, that's definitely a step in the right direction.
Here's how Frank Body does it: when customers add an item to their cart, there's a cute little animation which shows the progress bar being filled up.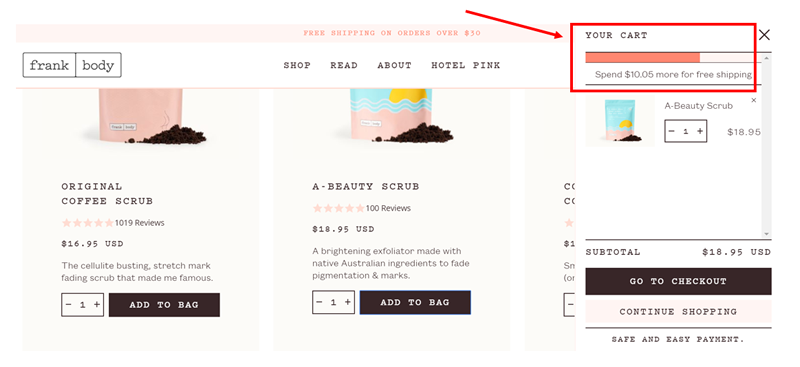 This lets customers see how far they're away from unlocking free shipping. While there's a one-liner that states the dollar amount below, the fact that it's pictorially represented also encourages shoppers to add more items to their carts.
Remember: when it comes to eCommerce, the devil is really in the details. Every small User Experience (UX) change adds up, and nudges your customer into making their purchase!
Element to steal: Dynamic product images
Cart system aside, Frank Body also utilizes dynamic product images on their site. If you simply scroll past the products section on the website, you'll see that this section features standard product images…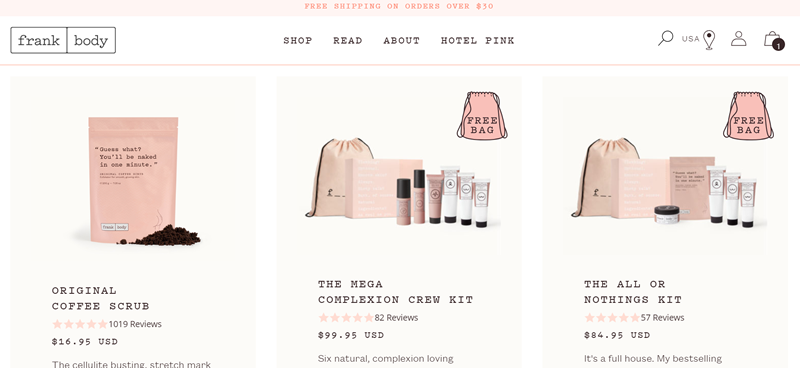 But when you mouse over a specific product, the image that's displayed changes: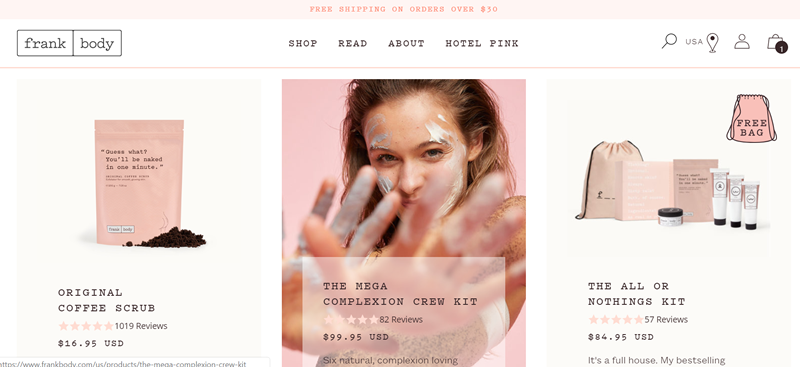 Now, there are quite a few eCommerce stores that use this tactic, and it's by no means something that's new or revolutionary.
But if you ask us, what Frank Body has done here is particularly effective because of the huge contrast between the two pictures.
If you're simply displaying another product image (from another angle, perhaps), that's perfectly fine as well… but throwing in a fun lifestyle shot helps to mix things up, and intrigue your customers.
#4: Pixi Beauty
Next on our list of most successful Shopify stores is Pixi Beauty, a skincare brand that's based in London.
Heading the team at Pixi is Petra Strand, who has 20+ years of experience as a makeup artist and product developer. Apart from their online store, the company also has a flagship boutique in Soho, London, and they generate US$1.6 million (~£1,236,480) in annual revenue.
Element to steal: Quiz
Pixi Beauty doesn't just showcase their new arrivals and bestsellers on its home page. It also features a fun "Skintreats Quiz" that customers can take to discover products that are suited to them (and get a discount).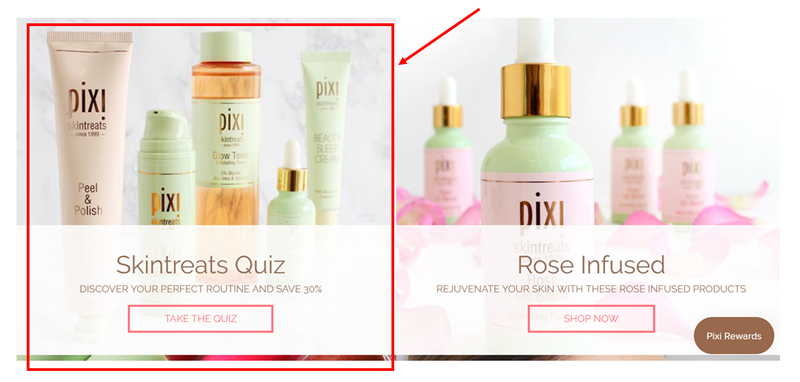 Now, this is a great way to engage customers (especially first-time customers who might not know what they want).
On top of engaging your customers and incentivizing them to make a purchase, you can also use a quiz to grow your email list, and get more subscribers.
Pro-tip: in order for your quiz to be effective, it's got to be short and sweet. Your website visitors aren't going to spend 30 minutes completing a painfully detailed quiz, even if you're throwing in a 30% off coupon at the end of it.
Want to increase your quiz conversion rates? Consider featuring a progress bar at the top of the page, like what Pixi Beauty does here.
This reassures your website visitors that they'll be done in no time, and encourages them to stick it through till the end of the quiz.
#5: Luxy Hair
Next, we have Luxy Hair, one of the most well-known hair extension brands in the market.
Due to its successful YouTube channel and Instagram account, the company is often cited in case studies about content marketing. Today, Luxy Hair makes 7 figures annually.
Element to steal: Product demonstration
Some products are highly demonstrable — hair extensions fall into this category, but so do other things such as kitchen equipment (blenders, bread makers, etc).
If you're selling one of these products, then the easiest way to entice your customers and convince them to make a purchase is by offering a product demonstration.
To do this, Luxy Hair has a standalone "Before & After" page, where they showcase how big of an impact their hair extensions have in shaping their customers' look: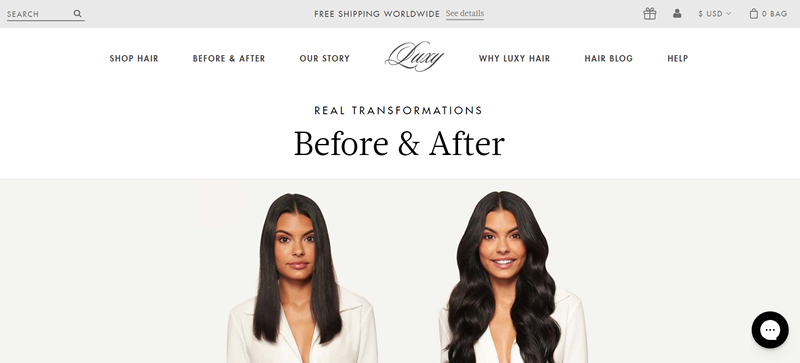 After scrolling through the different pictures, customers can even watch a similar "Before & After" video.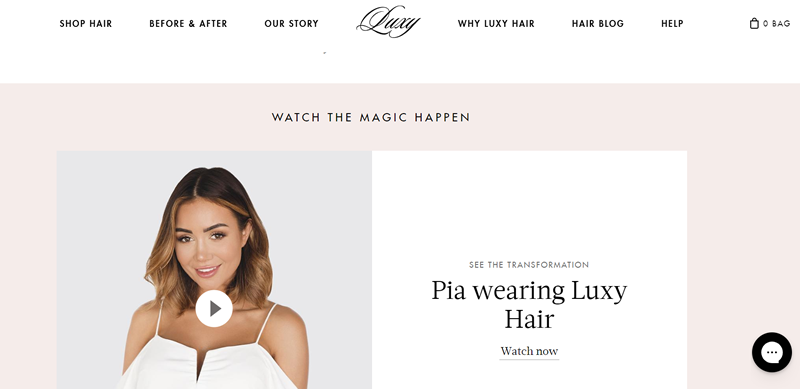 Element to steal: Walkthrough
Product demonstrations aside, Luxy Hair also provides a handy walkthrough for first-time buyers who aren't sure what type of hair extensions they want.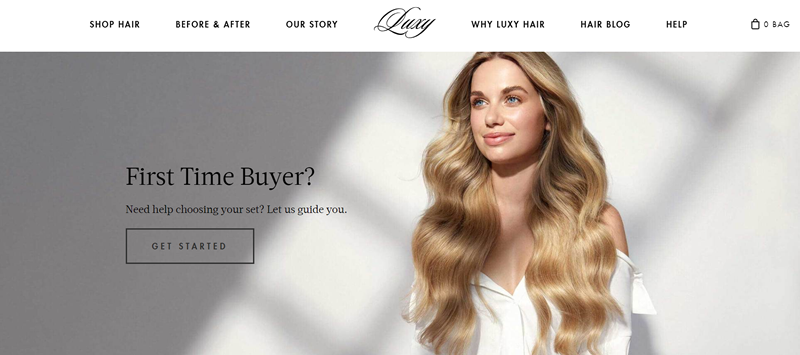 This works pretty similarly to Pixi Beauty's quiz. You answer a series of questions about your hair type, and the look you're going for…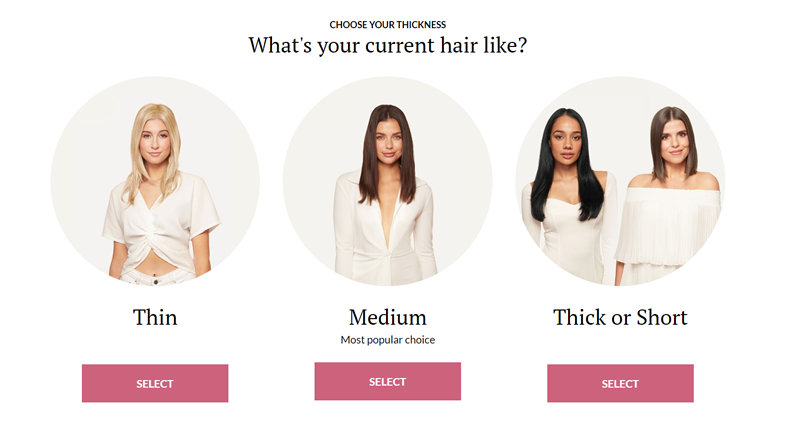 And Luxy Hair redirects you to a product that's suitable for you.
#6: Allbirds
Allbirds is an eco-friendly shoe brand that fuses style and functionality with environmental responsibility. The founder of the brand launched a Kickstarter campaign that raised US$119,000 (~£91,963) in five days back in 2014, and things quickly grew from there.
Today, Allbird makes over US$50 million (~£38,640,000) in annual revenue, and they're a go-to brand for consumers looking for environmentally-friendly shoes.
Element to steal: Media mentions
Allbirds has been featured heavily in the media, and they display all their media mentions on their homepage in order to build trust with their customers:

Now, while many brands simply showcase the logos of the publications that they've been featured in, Allbirds goes on step further and links to each individual with sound bites such as:
"World's Most Comfortable Shoe."
"Frankly, I Don't Know How I Ever Lived Without Them."
"We Won't Blame You If You Never Wear Any Other Shoe Ever Again."
This drives even more social proof, and boosts conversion rates.
Element to steal: Press page
In its footer, Allbird links to a Press page where journalists can download their press kit. Here, they also provide a specialized email address where media can reach out: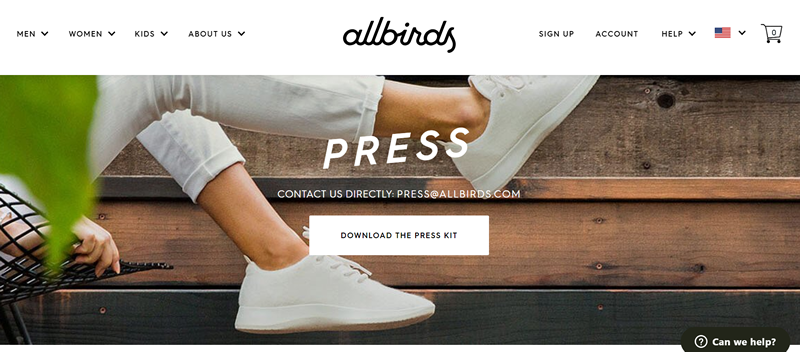 If you're hoping to get more media mentions, this is a smart tactic.
Now, if a journalist chances upon your brand and is thinking of featuring you in a story, they'll have everything they need (logos, founder head shots, etc) at their fingertips.
—
Inspired, and ready to build your very own Shopify store? Click here to learn more about our Shopify services!