How To Set Up A Shopify Store With Just 1 Hour And £40+
In this guide, we walk you through exactly how to set up a Shopify store. Set your timer to countdown an hour… and let's go!
How to set up a Shopify store
Step 1: Set up your account
First, head to Shopify.com, click on "Start free trial", and enter your details in the form shown below: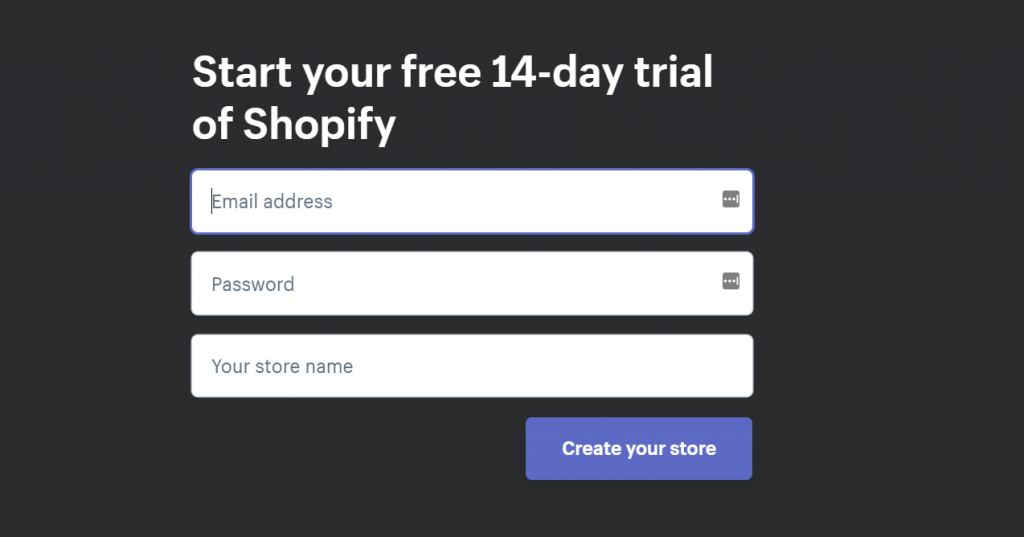 Then answer Shopify's brief questionnaire: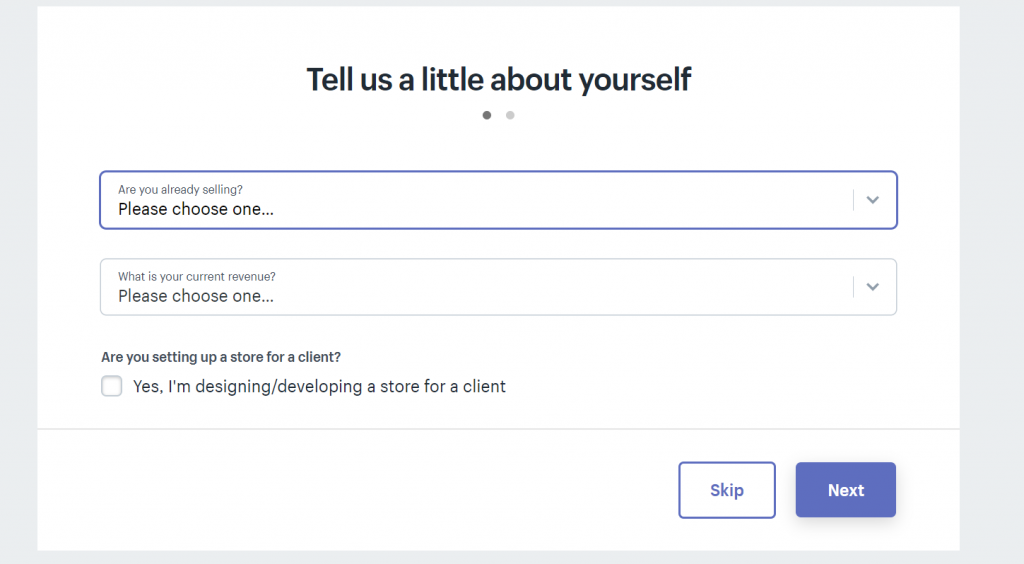 And add an address so that you can get paid. (You can just list your home address here — that's fine).
Once you're done, you'll be redirected to your dashboard, which looks like this:

That probably took you all of 5 minutes, so you have a TON of time left to get the rest of your store up and running. We're making good progress! 😉
Step 2: Add products
Alright, time to add your products to your store.
To do this, click on "Products" from the left-hand panel, then click on "Add product".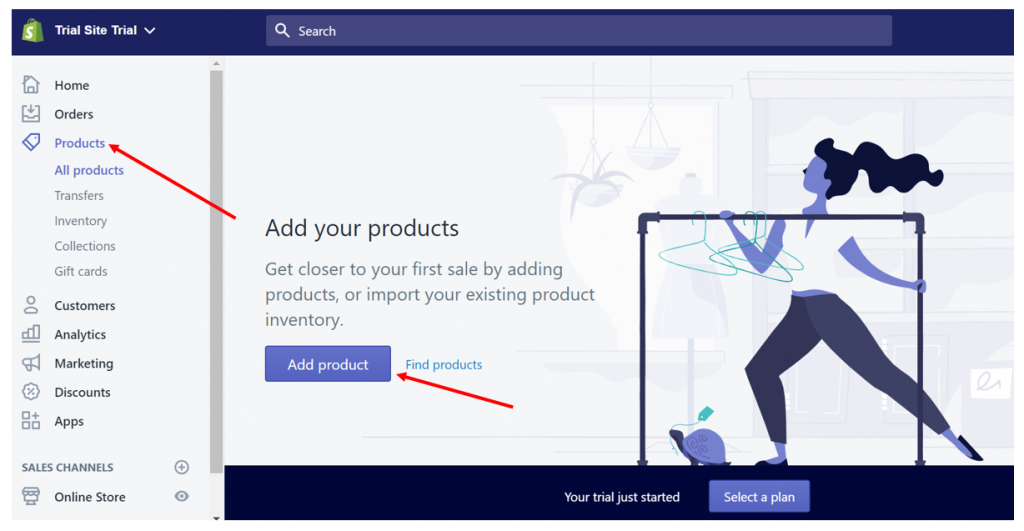 Here, you'll be able to:
Key in your product name and product description
Upload product pictures
Categorize your product
Set the pricing of your product
Update your inventory
Add more product variants, and
Preview how your product page looks like on search engines
[Pro-Tip] If you've got too many products to upload manually, you can also upload a CSV file containing your product information, or use Oberlo to find and import products to sell.
Step 3: Customize (or change) your theme
Now that you've got your products uploaded, you'll want to fine-tune the design of your store.
From the left-hand panel, click on "Online Store" and then "Themes".
Now, the default theme is "Debut" — you can click on "View your store" to check out how the theme looks.
If you're satisfied, click on "Customize" to change specific elements (font sizes, colors, etc) to your liking.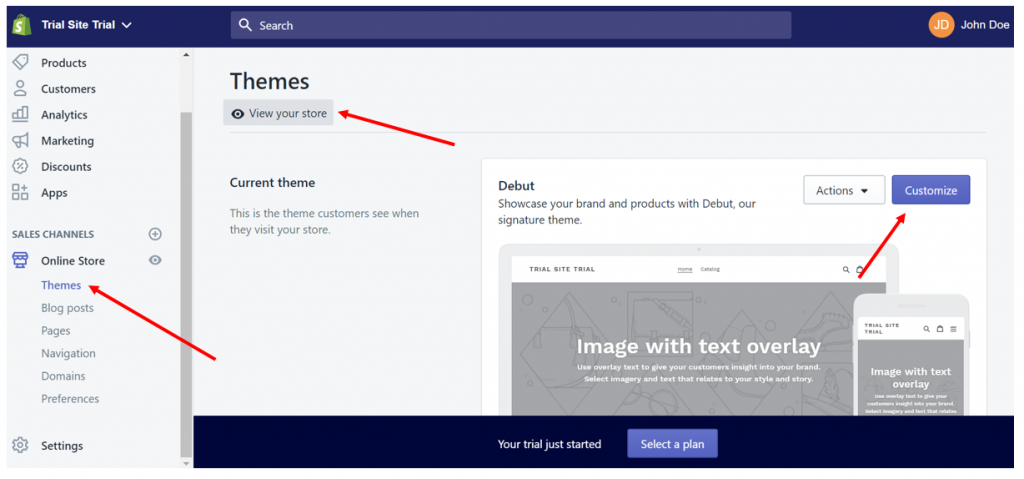 If not, scroll down and click on "Explore free themes".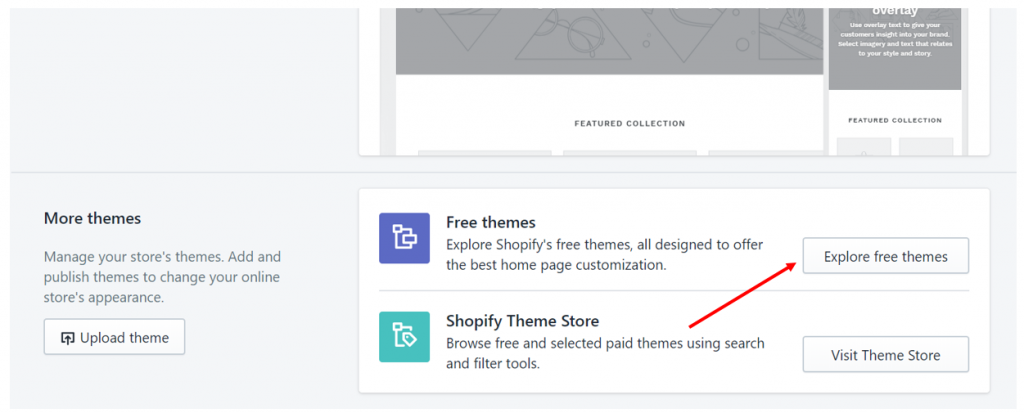 Once you've found a suitable theme, go ahead and install it, then customize it however you'd like.
Step 4: Set up your website pages
Moving on, click on "Pages" under "Online Store", then click on "Add page".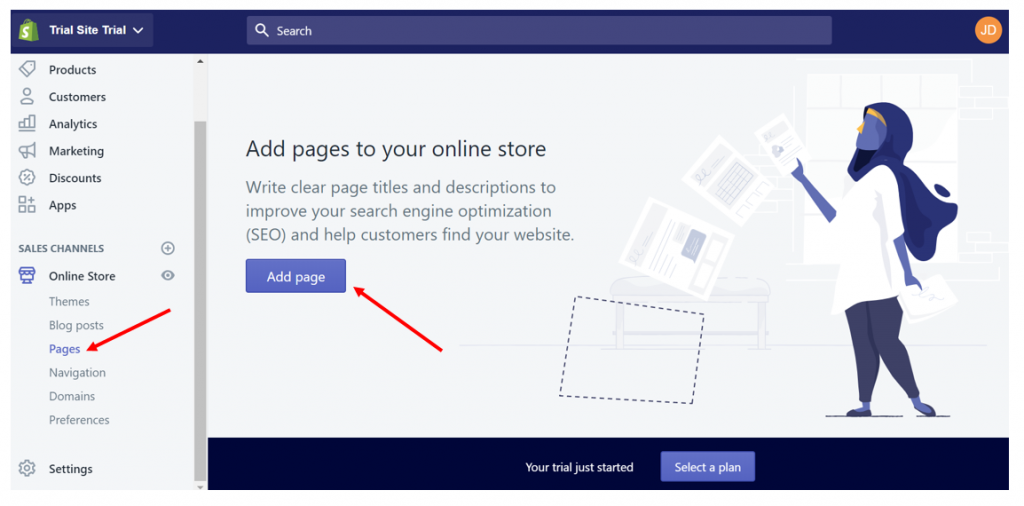 You don't need to get too fancy here — just add the basics to get started with. These include:
About Us
Contact Us
Shipping Information
T&C
If you need help writing your T&C, navigate to the "Legal" section under "Settings":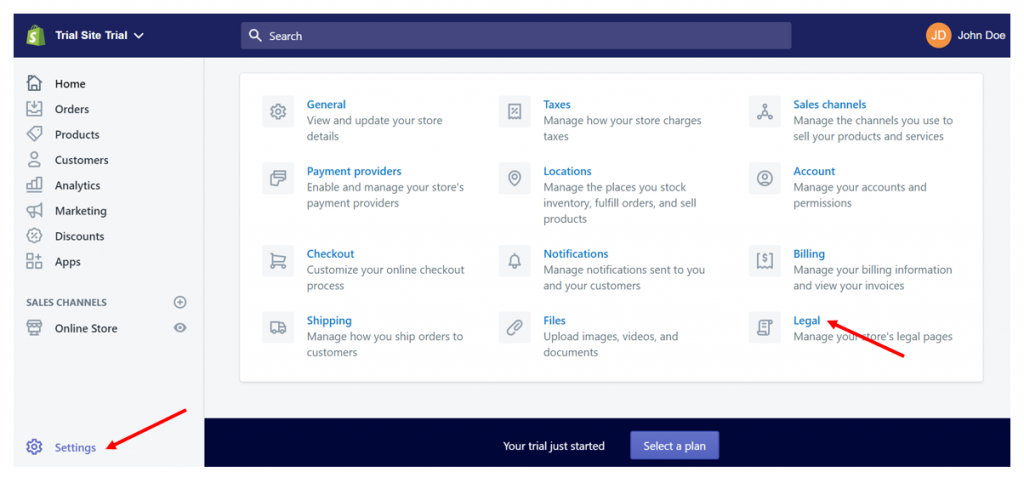 Here, Shopify allows you to create refund policies, privacy policies, terms of service and shipping policies with a click of a button: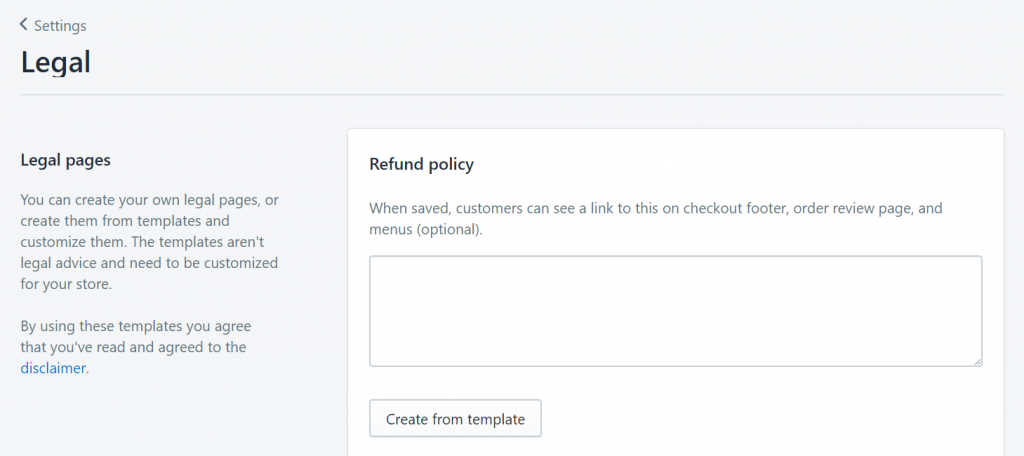 Step 5: Configure your website navigation
After you're done with your website pages, head to "Navigation" to set up your website menus.

Most people generally link to their product categories and essential information in their main menu, and put their less important links in the footer.
For example, say you're creating an eCommerce store to sell men's apparel. Your main menu might comprise of:
New in
Outerwear
Tops
Bottoms
Underwear
About Us
Shipping
And your footer menu might include:
If you have too many categories to list in your main menu, you can also use nested menus — this is what bigger brands with more SKUs do.
For example, if you go to Topshop's website and click on the "Jeans" category, you'll see that this opens up a whole new menu: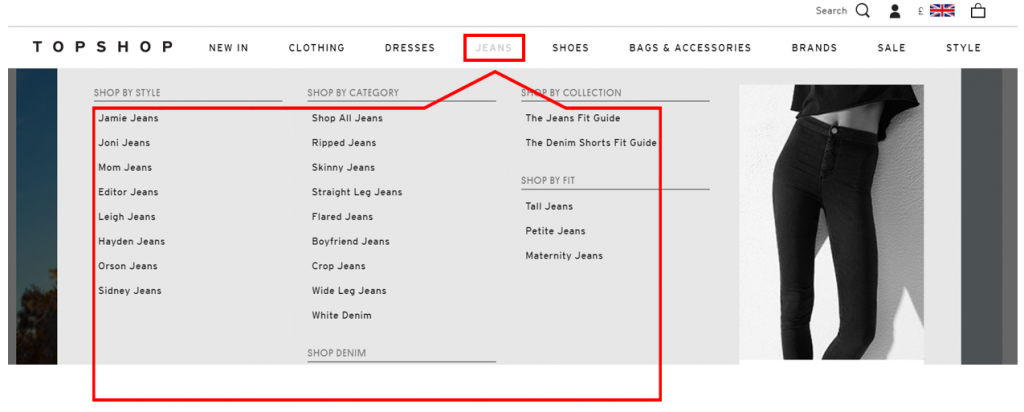 Step 6: Buy and connect your domain
Next, move on to the "Domain" section, where you can either connect an existing domain or buy a new domain.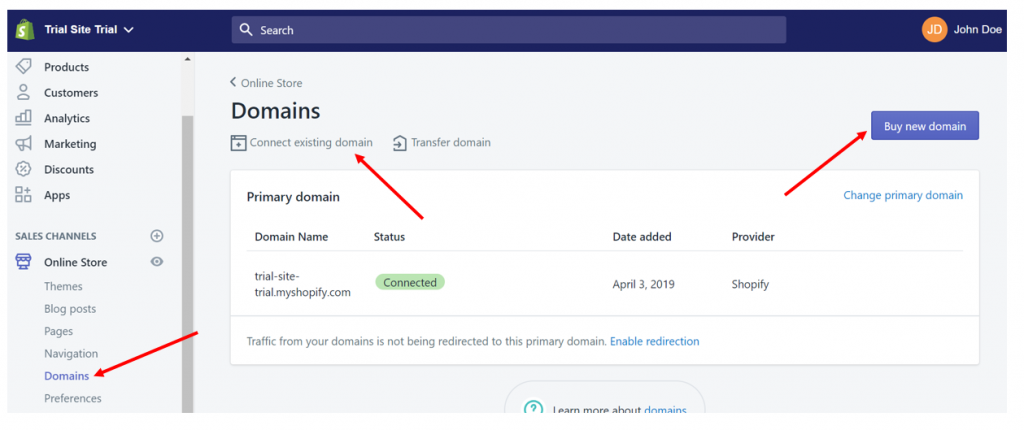 Now, to get the best deal, check out how much your domain name costs on Shopify, and take a look at what other domain name providers are charging for the same names.
Popular domain name providers include:
You can expect to spend £15 or so here — domain names are generally pretty cheap.
Expenses so far: £15.
[Pro-Tip] Don't just look at the price you're paying today — also take note of the renewal price of your domain. Most providers offer cheaper rates for the first year, but the renewal prices tend to be more expensive
[Pro-Tip] Many WordPress-related publications and blogs offer promo codes for domain name providers. WP Beginner is one of them — hit Ctrl + F and search for "coupon code" to access the relevant portion of the page.
Step 7: SEO, Google Analytics, and Facebook
Under the "Preferences" section of your dashboard, you'll be able to optimize your store to rank on search engines, and connect it to Google Analytics and Facebook.

First, enter your homepage title and homepage meta description. Be sure to use a keyword that you want to rank for.
For example, if you're hoping to rank for the keyword "Men's Clothing Store", then you might do the following:
Title = Store Name | Men's Clothing Store | Shop Now
Meta description = StoreName is a leading men's clothing store that's based in the US. We sell men's apparel made with eco-friendly fabrics such as bamboo, linen and organic cotton.
Next, scroll down to connect your store to Google Analytics and Facebook (both optional).

Generally speaking, we recommend all entrepreneurs to set up their Google Analytics account, because this provides you with useful insights about your store's traffic, and what keywords are driving people to your store.
To do this, click on the "how do I set this up?" link, and follow Shopify's guide.
When it comes to the Facebook Pixel, this isn't necessary unless you intend to run Facebook ads to market your store.
Again, you can access a step-by-step walkthrough by clicking on "how do I set this up?"
Step 8: Set up payment options
Next, click on "Settings" in the left-hand panel, then click on "Payment providers".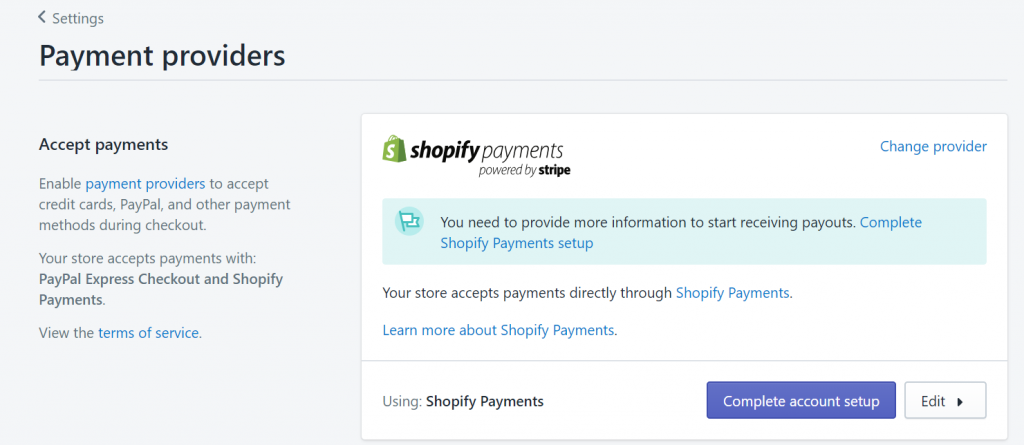 Here, you can configure your store to accept payments via Shopify Payments, PayPal, and other options.
[Pro-tip] Once you've set up your payment systems, remember to test out your payment gateway to make sure that your transactions go through smoothly.
Step 9: Configure your checkout process
After you've got your payments up and running, the next step is to work out your checkout process.
From "Settings", click on "Checkout".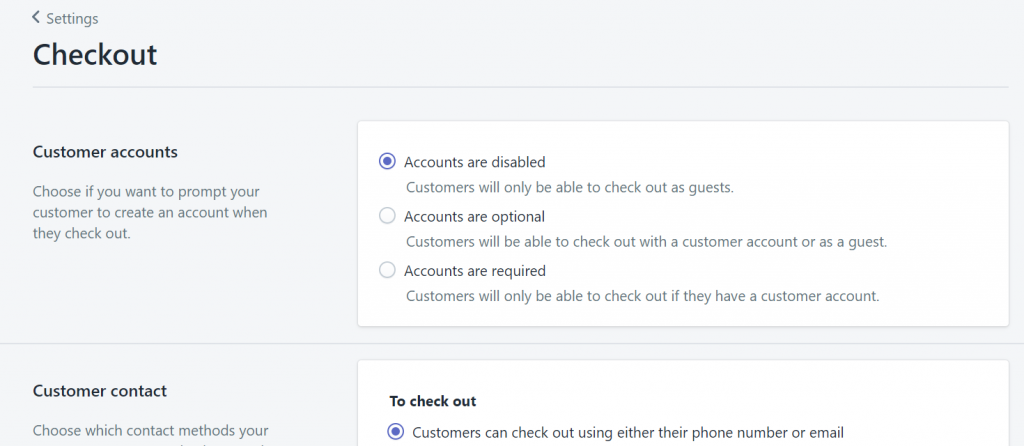 Here, you'll be able to specify:
Whether customers have to create an account to check out
Whether customers can check out using their phone number, or if they have to provide an email address
What details you want to capture on your checkout form
Whether you want to ask customers to sign up for your mailing list upon checkout
Step 10: Schedule emails to customers
You know how you always get an order confirmation email when you purchase something from an online store?
To set up your Shopify account to trigger these emails, click on "Notifications" within "Settings".
Here, you'll see a full list of the emails that Shopify will automatically send out on your behalf: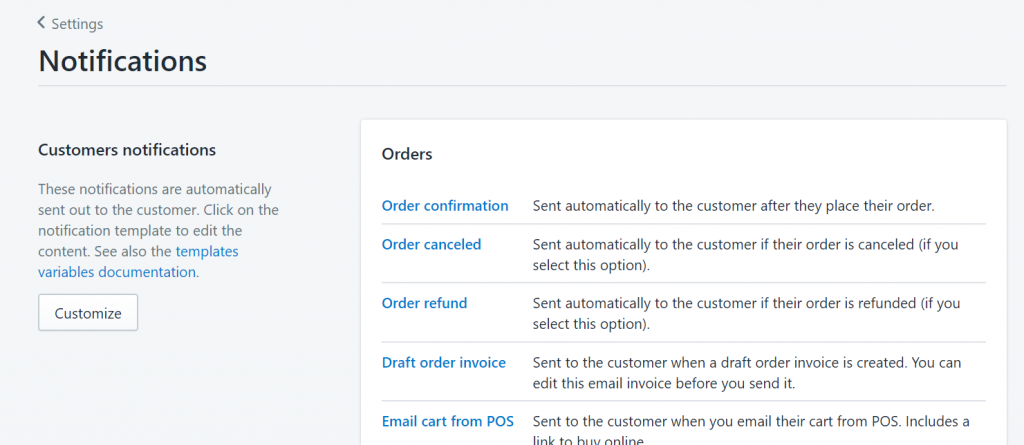 If you want to upload your own logo to use with the templates, or customize the colors featured in the email, click on the "Customize" button.
If you want to customize the text within each email, click on the relevant email from the list on the right.
[Pro-Tip] Want to get more customer reviews, and drive social proof? On your "Shipment delivered" email, go ahead and provide a link for your customers to review your product.
Alternatively, you can also ask your customers to snap a picture of your product, and share it on social media using your branded hashtags.
Step 11: Set your shipping rates
Finally, navigate to the "Shipping" section under "Settings"…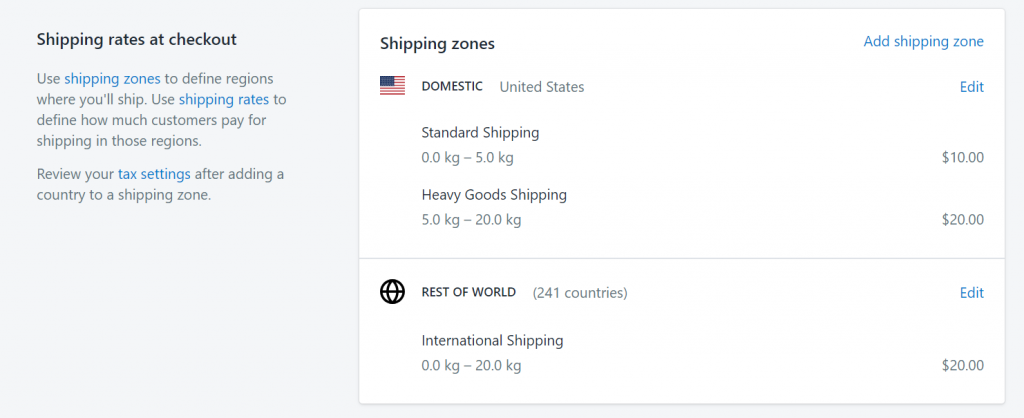 Here, you'll be able to determine your shipping origin and set shipping zones and rates.
[Pro-Tip] 9 out of 10 consumers say that free shipping is the biggest incentive that drives them to shop online, so if possible, try to offer free shipping.
Step 12: Enter your billing information
Just one last thing to do before you take your store live, and that's… enter your billing information.
To do this, head to "Billing" under "Settings", then click on "Add credit card":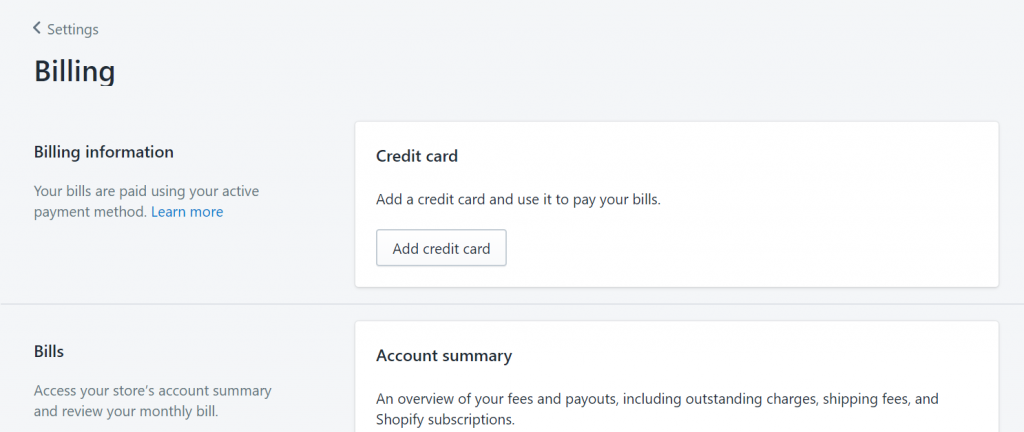 Once your free trial (14 days!) is up, Shopify will bill you for your account. Assuming you've signed up for a basic account, that's about £25 in platform fees.
Expenses so far: £15 + £25 = £40.
Annnnnd you're done!
Give yourself a pat on the back — you arrived on this page not knowing how to set up a Shopify store, but you're now unofficially an expert.
Now, if you're not content with a basic store, and you want to customize your store to look exactly the way you envisioned, we can help you with that. Click here to learn more about our Shopify services.
Otherwise, go ahead and get your store up and running. Here's to making more income in 2019 and beyond!