7 Crucial Mistakes That Business Owners Make When Choosing A Web Design Company
Now, most of your customers first come into contact with your brand via your website, so it's important to get this right.
Bearing this in mind, don't just hastily zero in on one particular web design company — instead, take the time to do your research, so that you can make the right choice.
In this blog post, we'll share 7 crucial mistakes that business owners make when choosing a web design company. Make sure to steer clear of these common pitfalls!
1. Working with a non-local web design company
These days, it's common for companies to outsource certain parts of their processes to overseas companies in order to save cost.
Need cheap and good customer support? Hire part-time customer service reps in the Philippines.
Want to enlist the help of an SEO expert? Get in touch with SEO specialists in China.
Need to build a website? Look for a web design company from India.
Now, there's no arguing that outsourcing work to overseas companies and contractors can be cost-effective. That said, this might open up a whole can of worms that you'll then have to deal with.
First and foremost, if the web design company that you hire isn't proficient in English, this will make communicating your requirements to them tough. You might have to go back and forth a few times to make sure that the company understands you well.
Even if the company's customer-facing staff (ie their business development executives, or whoever you're liaising with) communicates with you well, the coders that the company employs might not be as fluent in English.
Now, to be clear, we're not saying that ALL overseas web design companies are ineffective, or that you'll definitely regret it if you work with an overseas company.
What we're saying is that you'll need to exercise a TON of caution if you do want to hire overseas contractors. If you're not willing to take on the risk of having your website go south, then your best bet is to hire someone locally.
2. Working with a new company that doesn't have testimonials
This one's fairly straightforward — most web design companies display their portfolios and testimonials on their site, and if you chance upon a company that doesn't have these featured, chances are that:
They're new, and they don't have any experience, or
They haven't been able to get any good feedback from their clients
Either way, it's a red flag. Steer clear of these companies, regardless of how cost-effective their web design services are!
3. Working with a company that doesn't take the time to understand your needs
Picture this: you fill in a form to enquire about Company A's web design services, and they call you back in 2 minutes flat.
After asking your proposal, they proceed to sell you on their services, without asking about:
The background of your company
Your ideal customer
The current challenges you're facing
What you hope to achieve with your website
Do you think that this company will be able to do a good job, and deliver according to your expectations?
Obviously not — they don't even know what you want!
Again, if a web design company pitches to you using a one-size-fits-all proposal, or sends you a quote WITHOUT first clarifying your needs, consider this a red flag.
This indicates that the company is only looking to push out a quick "hit-and-run" job, which doesn't bode well for your working relationship.
4. Working with a web design company that lacks expertise
Now, in certain cases, web design companies might ask all the right questions, but they might still not have a thorough understanding of your needs.
Basically, these are the companies that don't have any background and expertise in marketing, UX, and related fields.
If you work with these folks, you might get a beautifully-designed website, but you might find that the functionality of your website is lacking in certain areas.
For example, say you're setting up an eCommerce store, and you want to create a website for your store.
If you work with a web design company without the relevant expertise, you might just get a basic storefront complete with checkout function.
But if you hire a company that's experienced in creating eCommerce sites, they might suggest that you include:
A sticky banner advertising your free shipping offer
A countdown timer that incentivizes customers to purchase quickly
Sales pop-ups that build social proof and increase conversions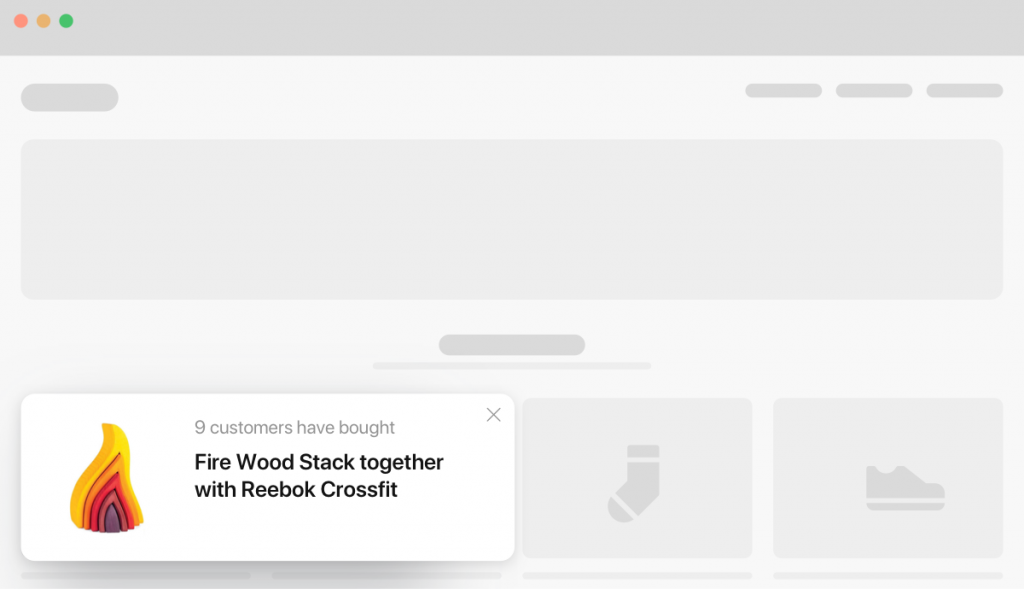 Obviously, this brings a ton of value to your website, and makes your website that much more effective.
5. Working with a company that doesn't distinguish between its developers and designers
Just to be clear: developers are the technical people who build your website and its functionality. Designers, on the other hand, focus on the look and feel of your website.
Now, if you're talking to a design company that says: "Oh, our developers double up as designers as well, just tell them how you want your site to look"…
That's NOT what you're hoping to hear.
While there are some highly talented folks that are highly skilled in both designing and coding, these people are few and far between.
After all, designing and coding are two different skill sets, and most people have more expertise in one particular area.
So: choose to work with web design companies that have specialised departments, and be wary of companies who claim to employ multi-talented designers and coders who can handle anything that's thrown at them!
6. Not asking about website maintenance fees
So you're talking to a web design company, and they tick all your boxes.
Their website set-up fees are reasonable, they take the time to understand your company, they have glowing reviews on their site, and everything checks out.
Should you go ahead and sign on that contract?
Nope, not quite. There's one last thing left to do… and that's to check on their website maintenance fees.
Now, creating a beautiful, high-performing website is just the first step. Once your website is up and running, you'll also have to maintain and update it. We're talking:
Backing up your site
Performing security updates
Updating plugins
Adding or editing site content, etc.

Most business owners are busy enough with their day-to-day operations, and don't have time to do these tedious tasks.
So… that leaves your web design company to step in, and maintain your site.
If you don't ask about maintenance costs upfront, and only check when your site is due for an upgrade, you might get a nasty shock at the exorbitant fees that the company charges.
If you're really desperate, and you don't have time to hire another company and set up accounts for them to access your site, you might just end up paying through the nose. That's why it's important to get a clear picture of maintenance costs before you engage a design company!
7. Asking a friend to build your website instead of approaching a web design company
If you're setting up a company on a tight budget, you might be tempted to get a friend who knows a thing or two about web design to help you build your website.
That said, there's a HUGE difference between working with someone who designs website for fun, and someone who does it for a living.
Again, it all boils down to expertise here. Your friend might be able to create a site that looks pretty decent, but can they build the functionality you need into your site, and ensure that your site is user-friendly?
At the end of the day, you don't want to get a half-baked site that's not quite what you wanted (and ruin your friendship in the process).
So do yourself a favor, and pay for a proper web design company instead of getting a friend to help out!
Finding the right web design company for you
That's all we've got for you in this blog post! Whilst you're searching for design companies and shortlisting candidates, be sure to keep these 7 crucial mistakes in mind.
Quick plug: our company specializes in designing WordPress, Joomla, Drupal, Laravel and Shopify, and you can see examples of our work (plus testimonials from our happy customers) on our site. Check it out:
We're pleased to bits with the website JD created for us. They understood exactly what Silicon South is working to achieve and built a website to compliment our goals perfectly. Plus, being on a support plan means we have nothing to worry about other than keeping the website updated with fresh content.
Megan Bagnall Programme Manager, Silicon South
If you're interested to find out more, click here to learn about our web design and development services.
Otherwise, best of luck in finding your perfect fit!