Pivoting to online – who's done it right?
Let's take a look at a couple of great examples of businesses around Bournemouth that have used Shopify to pivot quickly.
As Shopify partners, we've kept ourselves right up to date with the amazing new features Shopify have fast tracked out the door to help you keep running. I'll summarise some of these at the end.
Urban Guild
https://takeaway.urbanguild.co.uk/
Urban Guild is a much loved group of restaurants in Bournemouth run by Mark Cribb who has been quite vocal about the dire affects Coronavirus has had on his business. I really felt for him. His business and the livelyhoods of his staff were in trouble and he was visibly upset.
On 29th April, Mark posted this tweet:
I can't sit here watching the business float into the sunset so we've been working on the riddle of how to keep physically apart but serve the food and drink we love, whilst looking after our lovely customers and team. Welcome to the Urban Guild Drive Thru @urbanbeach — mark cribb (@markcribb) April 29, 2020
Fantastic! So let's take a look at how Urban Guild set up their online offering.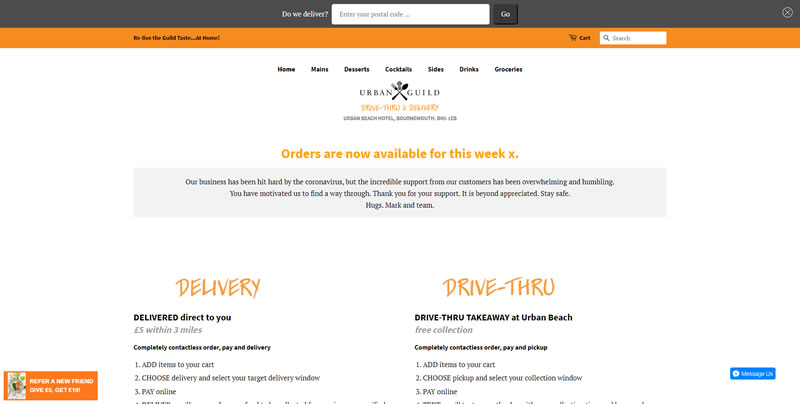 Urban Guild is using Shopify. Smart move. Now you probably think of Shopify as being a platform for your more traditional online store, not for a restaurant with a takeaway and delivery service. That said, Shopify has an extremely healthy app store (which includes our very own Auto Schedule app) with apps that can turn your online store into pretty much whatever you want it to be.
To be fair, I've seen some of the platforms that are specifically for takeaways and most are pretty poor. Of course there's Deliveroo, Just Eat and the likes – but then you lose control of your website and they're going to want to take a big cut.
To facilitate takeaways and deliveries, Urban Guild has used the Store Pickup + Delivery app by Zapiet (https://apps.shopify.com/click-and-collect) which adds on the bits you wouldn't normally need for an online store, but are essential for a delivery or collection service, including:
Setting delivery zones – so deliveries can only be booked within a certain radius
Giving a finite number of collection and delivery slots at certain times
You can see the post code checking facility and slot availability modules, both of which are part of Zapiet's app, on Urban Guild's takeaway homepage.

Since Urban Guild launched their takeaway site, Shopify have fast tracked new standard features that are similar to some of those offered by Zapiet's app including local deliveries set by radius and local pickup options. I'll cover this later on. However, you still need an app to be able to offer slots or schedule products to become available – as is necessary for delivery and collection.
To style the site, Urban Guild has used a completely free theme from Shopify called Minimal (https://themes.shopify.com/themes/minimal/). It seems to work great for the brand and is indeed minimal – and therefore easy to navigate around.
Again, since Urban Guild launched this site, Shopify has released a new completely free theme aimed specifically at restaurants – Express (https://themes.shopify.com/themes/express/styles/pantry). More about this later on.
What would we change?
The homepage is a tad confusing and could do with a bit of a tidy up to help with user experience. Perhaps the availability could be made clearer and more prominent to inject a sense of urgency.
There's a few elements that are unnecessary for a site of this nature – the search bar and filtering/sorting on the product listing pages could probably go and free up some real estate.
We would also add the tipping functionality and maybe add the option to buy gift cards.
Overall, Mark and the team at Urban Guild have done a great job at pivoting quickly and leveraging Shopify to do it quickly, easily, for little cost and to great effect. The imagery used is top notch and makes all the meals look amazing – although they are anyway, I've tried them!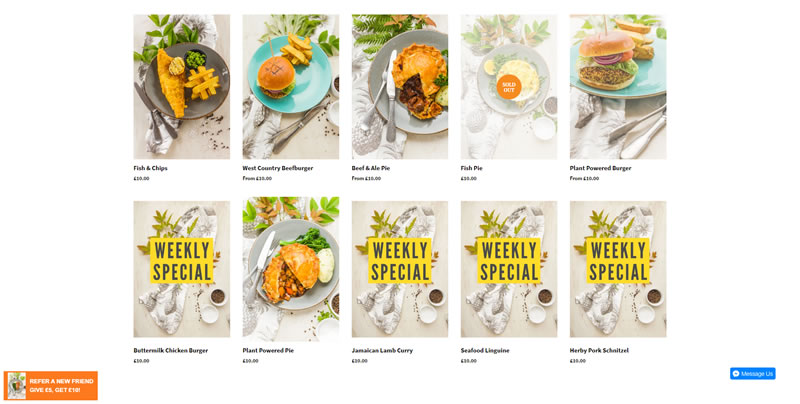 Love Orchids
https://shop.loveorchids.co.uk/
This one is a great story. I remember early on in the lockdown being frustrated that I couldn't go to a garden centre to spruce up my garden – which I was now spending a lot of time in. I was even more frustrated to learn that nurseries and garden centres were facing big trouble owing to the fact that their produce is perishable and if people couldn't buy it then it would need to be disposed of. Pretty heartbreaking.
Double H nurseries are based in Ringwood and have traditionally supplied supermarkets with Orchids. Demand plummeted when shopping at a supermarket became a very different (and in my opinion – stressful) event. People don't want to stand around looking at plants. They just want to get in, buy the essentials and get out. So, their best option was to pivot quickly and start selling direct to consumers online.
As detailed in Bournemouth Echo (https://www.bournemouthecho.co.uk/news/18372169.supermarket-orchid-grower-selling-online-amid-coronavirus-crisis/), the store was produced in under a week, an achievement quite possibly helped along by the fact they chose Shopify.
Let's take a look at what they've done…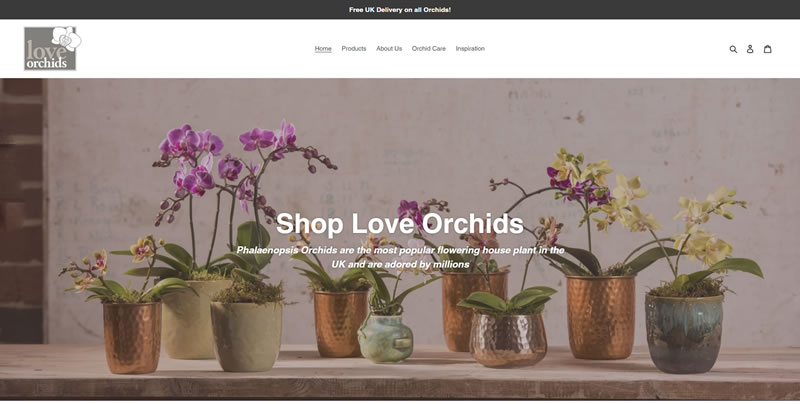 Because the store is fairly standard in how it operates, there doesn't seem to be much in the way of apps, other than the Shopify Reviews app that lets customers review your products. Reviews are a great way to reinforce a positive opinion of a product so this will help Love Orchids convert more sales.
Theme wise, they are using the standard "Debut" theme that is selected by default when you fire up a new Shopify theme. I've seen this theme so many times I didn't even have to look in the source code! The fact they are using this theme is not necessarily a bad thing. It's simple, easy to use, and can act as a great base to make custom developments in the future.
What would we change?
Some of the navigational links link back to a separate site which can make for a disjointed and confusing journey for customers, so we'd probably want to reorganise the navigation.
We would consider adding gift cards and there's a few other minor user experience improvements we'd make such as adding a clear call to action to the main hero. But that's about it. It serves its purpose well and I hope they're selling a lot of orchids. By the look of their reviews and social media, it seems like they probably are!
What is Shopify doing to help?
Absolutely loads. It's been quite amazing to watch – they seem to have condensed a 2 year feature roadmap into about 2 months! Here's a few highlights…
90 day free trial
Usually 30 days – but currently 90 days during the pandemic. If you only need your online store for 90 days then it's effectively free.
Free trial period has now returned to 14 days.
Gift cards
https://www.shopify.com/blog/gift-cards-all-plans
Normally, you can only sell gift cards if you're on one of the more expensive Shopify plans. However, they've now brought this to all plans which can really help with cashflow.
Local delivery option
https://help.shopify.com/en/manual/shipping/setting-up-and-managing-your-shipping/local-methods/local-delivery
You can now offer local delivery at the checkout and limit to either a selection of postcodes or a set radius. This is available immediately. However, very shortly you will also be able to plot delivery routes and using Shopify's app, view your delivery route and update the order status once the delivery has been made. Really smart!
Local pick up
https://help.shopify.com/en/manual/sell-in-person/pos-classic/shopify-pos-from-admin/buy-online-pickup-in-store
You can also give customers the option to pick up from your store. Perfect for takeaways.
Tipping
https://help.shopify.com/en//manual/checkout-settings/tips
Tipping is relatively standard when eating out at a restaurant and even when having takeaway food delivered. So why not add it to your online store? Shopify have fast tracked this feature so it's now available for all.
Express theme
https://themes.shopify.com/themes/express
Aimed squarely at takeaways, this free theme gives you a super simple one page design website for when multiple pages aren't necessary.
There are some limitations, mostly owing to the fact it's just one page but if you want to keep things simple, this is well worth checking out.
There's more great stuff in the pipeline, including financial products and social media marketing tools. Feel free to get in touch, we'd love to chat about them!