Best Shopify Apps: 12 Free Apps To Help You Supercharge Your Business In 2019
The icing on top of the cake? All these apps are free to use, so you don't have to worry about your expenses skyrocketing.
You're welcome! 😉
Best Shopify Apps For Shipping And Fulfillment
Bogged down with fulfilling and shipping your orders? These free Shopify apps will help you do all the heavy lifting!
1 – Order Printer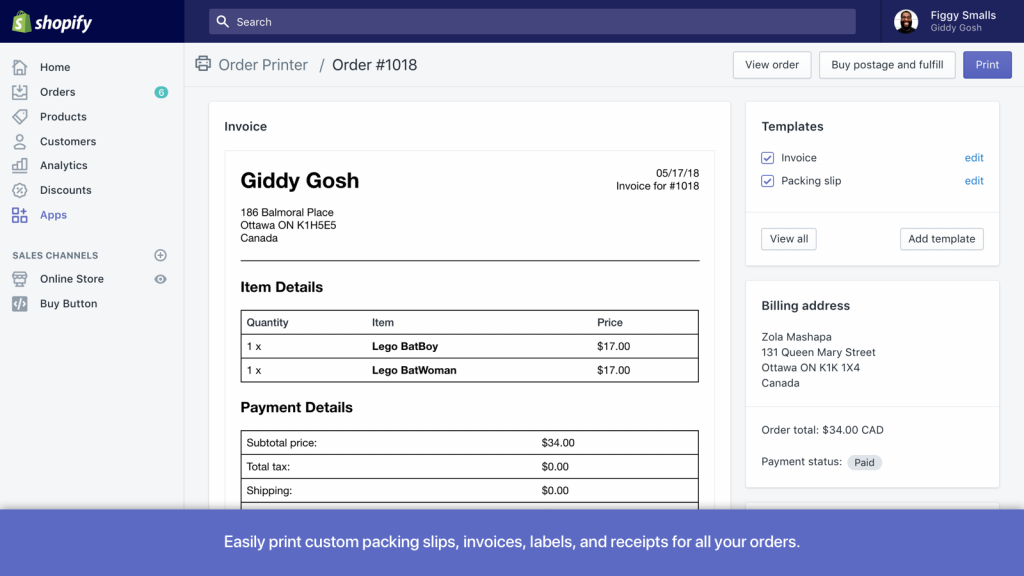 Who else finds it a hassle to keep track of and print documents?
Thankfully, there's Order Printer to the rescue. This app is easy to set up and use, and it allows you to quickly and easily print invoices, labels, receipts, packing slips, and other materials. You can either print documents in bulk, or one at a time.
2 – Shippo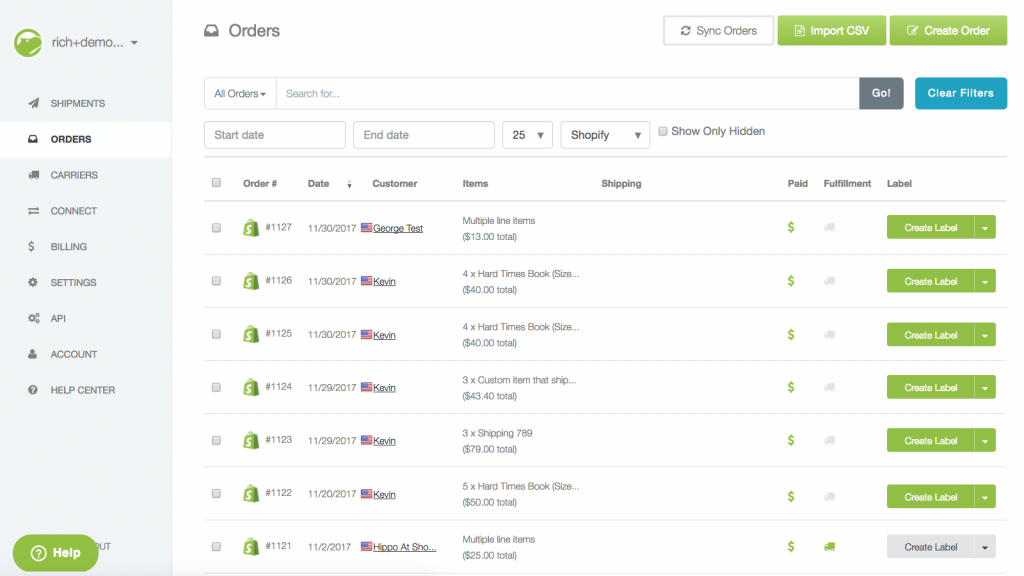 If expensive shipping fees are eating into your margin, use Shippo to get discounted shipping rates regardless of size or quantity. Once you install the app and import your orders, you'll be able to get access to commercial pricing with vendors such as USPS, DHL Express, Sendle, Fastway Australia, and CouriersPlease.
Shippo connects with 50+ carriers around the world, which makes shipping to international customers a breeze. The app also comes with a feature that allows you to generate customs forms and commercial invoices, and you can purchase insurance for premium shipments, one-of-a-kind goods, and international packages with a click of a button.
Best Shopify Apps For Marketing
If you want your Shopify store to grow, you've got to market and promote it — simple as that.
Regardless of whether you want to focus on amassing a treasure trove of customer reviews, setting up a referral programme, or running Facebook and Instagram ads, there's a Shopify app that can help you with that!
3 – Product Reviews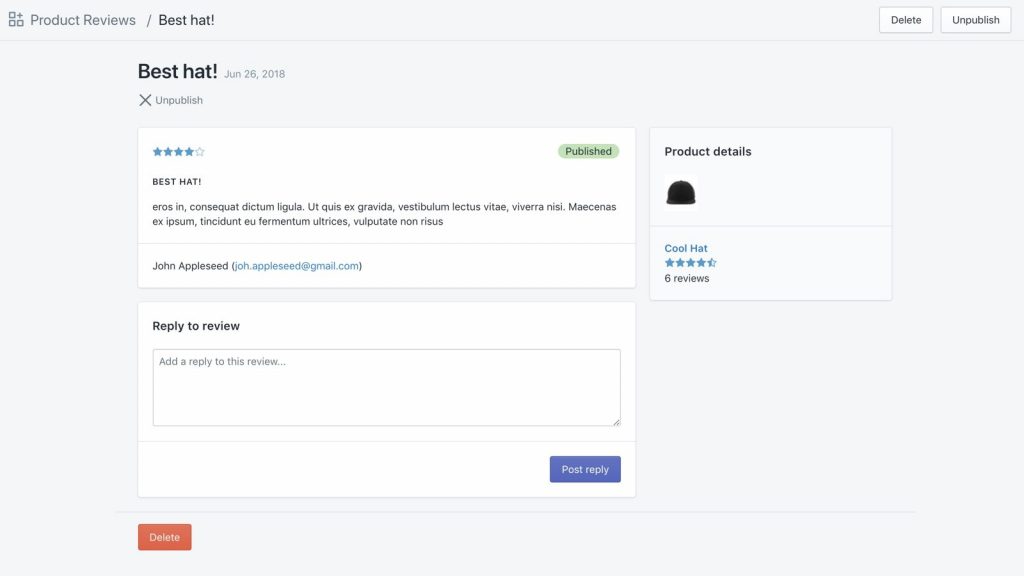 Adding customer reviews to your store is a great way to showcase social proof and boost sales.
The numbers don't lie: nearly 95% of shoppers read online reviews before making a purchase, and having just five reviews on a product page results in customers being 4x more likely to make a purchase.
To add customer reviews to your product pages, use the Shopify Product Reviews app. You can easily customize the look and feel of your reviews by editing text, colours and layout options, and on the back end, you have the ability to publish, hide, filter and manage your reviews as well.
Bonus: you can also use Product Reviews to add SEO-friendly review scores to your Google search results. This helps you boost your search engine rankings!
4 – Bulk Discounts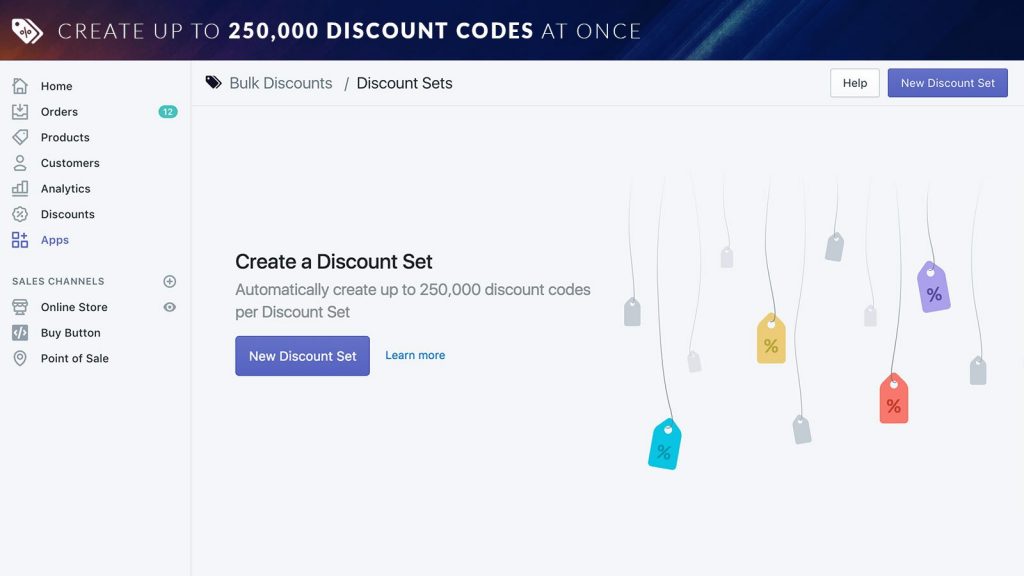 Want to incentivize your customers to refer their friends to you? One of the best ways of doing so is to provide them with a unique promo code that they can share with their friends.
That said, it doesn't make sense to manually generating promo codes, one at a time. That's where the Bulk Discounts app comes in handy!
With this app, you can create large quantities of discount codes for your customers to use, in just a matter of seconds. If you want to keep track of your codes, simply export them to a CSV; alternatively, you can access your codes by navigating to the Shopify Admin Discount section.
5 – Smile: Rewards & Loyalty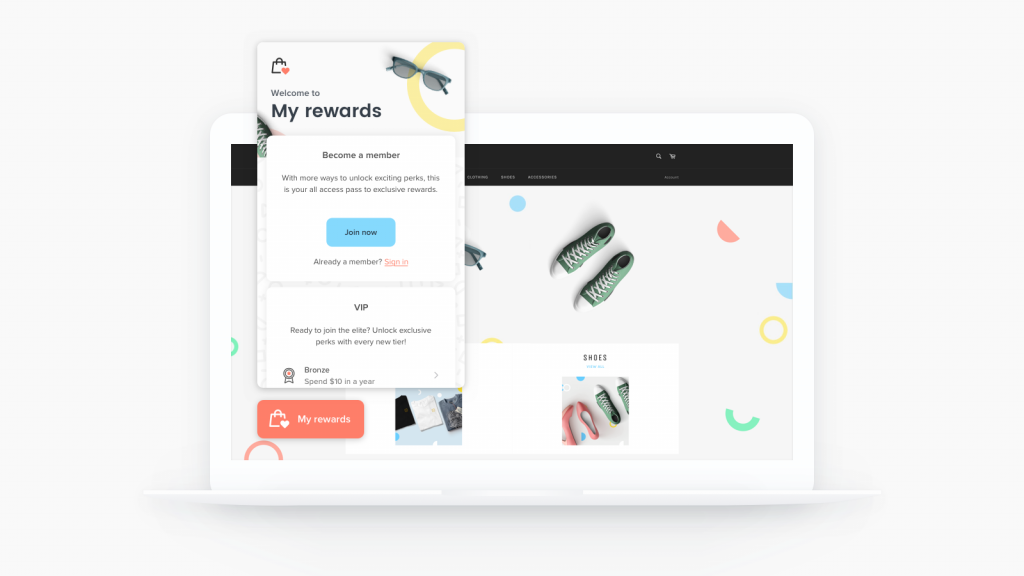 According to statistics, recruiting new customers costs five times as much as retaining current customers. Bearing this in mind, it's important for brands to engage their existing customers and continue to sell products to them.
How do you do this? There are various strategies to use, but one of our favourite tactics is to come up with an enticing loyalty programme. More specifically, use Smile to reward your customers with points whenever they complete certain actions (such as creating an account, sharing a product on social media, and more).
The goal is to convert a once-off customer into a lifelong fan!
6 – Kit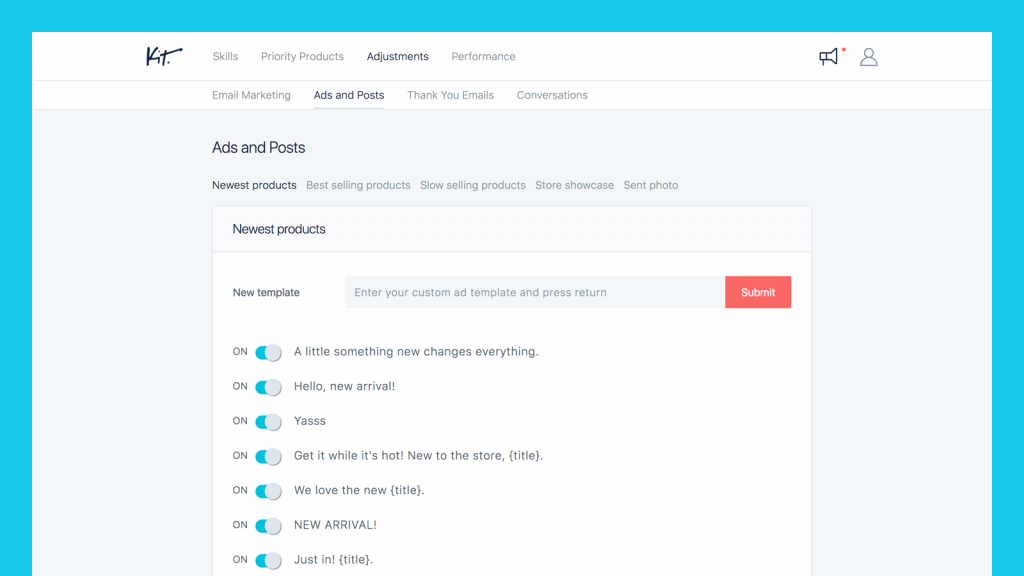 Want to start marketing your store more, but don't know where to start? Leave it to Kit, a free virtual employee that automatically recommends marketing activities to Shopify store owners.
Here are some of the things that Kit can do for you:
Set up Facebook ads to retarget shoppers who browsed, but didn't buy
Build Lookalike Audiences on Facebook to discover customers that are likely to buy
Create Facebook and Instagram ads to increase conversions and sales
Create organic Facebook posts to engage customers who follow your page
Trigger personalized "thank you" email marketing campaigns to delight customers
Create and promote discount codes to convince customers to make a purchase
Generate reports that provide insights on the store's overall performance
If you're looking for an all-in-one marketing app or solution, Kit is a godsend.
Best Shopify Apps For Social Media
While it's common for eCommerce store owners to have some sort of social media presence, plenty of store owners still fall short when it comes to updating their social media pages and engaging with their followers.
Want to milk your social media channels, and get more conversions and sales from them? The following social media apps will do the trick!
7 – Facebook Store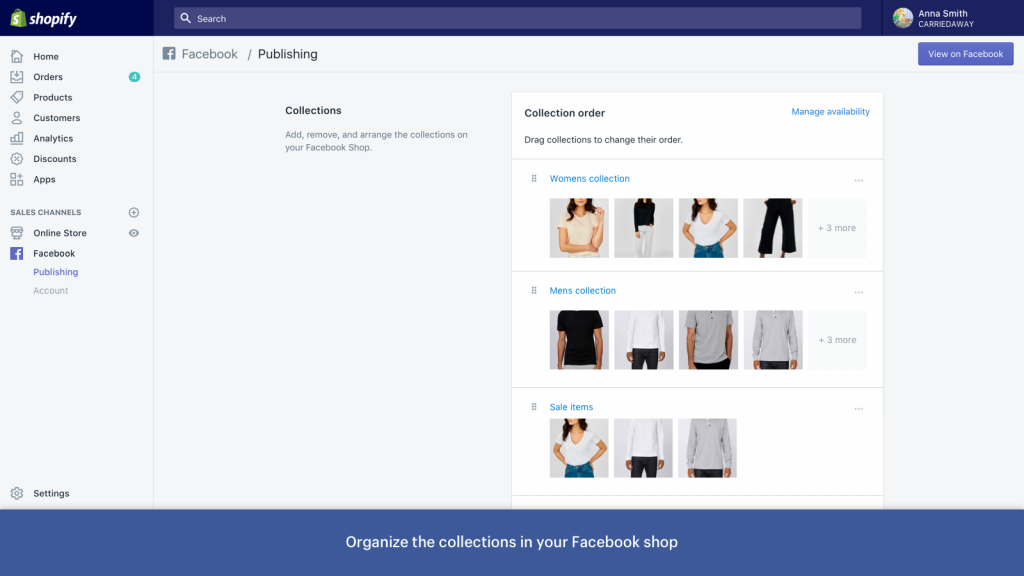 With Facebook Store, you can easily create a Facebook Shop and import the products from your Shopify store to your Shop. Once you've done this, go ahead and share and tag products in your Facebook posts to drive awareness about your products.
On the logistics front: since your Facebook Shop is connected to your Shopify site, fulfilling orders will be a breeze. You can access and track all orders placed on Facebook using your Shopify dashboard; to access sales figures and data about your Facebook Shop's performance, simply head to your Analytics page.
8 – Better Coupon Box
Want to grow your social media following? With Better Coupon Box, you can reach out to all the visitors that land on your website, and potentially convert them into followers.
Here's how the app works: when someone lands on your site for the first time, the app triggers a pop-up to offer them a discount code in return for following your social media channel.
Now that your visitor has this promo code, they're incentivized to make their first purchase. Once they join your ecosystem of customers, you can continue marketing to them (on social media or on email), and hopefully build upon their Customer Lifetime Value (CLV) from there.
9 – Messenger Channel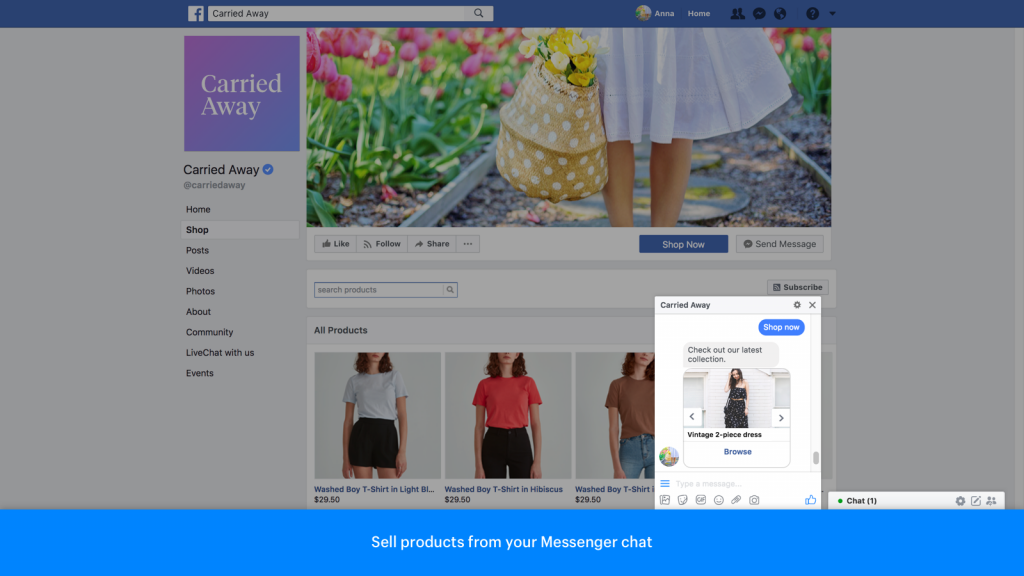 Messenger Channel is one of the most useful Shopify apps out there, and if you install just ONE app from this list, make sure this is it.
With Messenger Channel, you can add a "message us" button to your online store, and encourage your customers to message you on Facebook. This makes it easy for customers to get in touch with any enquiries that they might have.
On top of that, Messenger Channel also doubles up as a chatbot that provides your customers with product recommendations. More specifically, you can use the app to encourage your customers to check out and purchase specific collections or products.
Last but not least, Messenger Channel also allows you to trigger automated order updates to your customers via Facebook Messenger. PS: Messenger bots are known to have an open rate that's vastly superior to email open rates, so if you're struggling with low email open rates, switching to Messenger might just do the trick.
Best Shopify Apps For Optimizing Your Store
To round off our list, here are three best Shopify apps that you can use to optimize your store. Head to the Shopify app store and add these useful apps to your toolkit, stat!
10 – Free Shipping Bar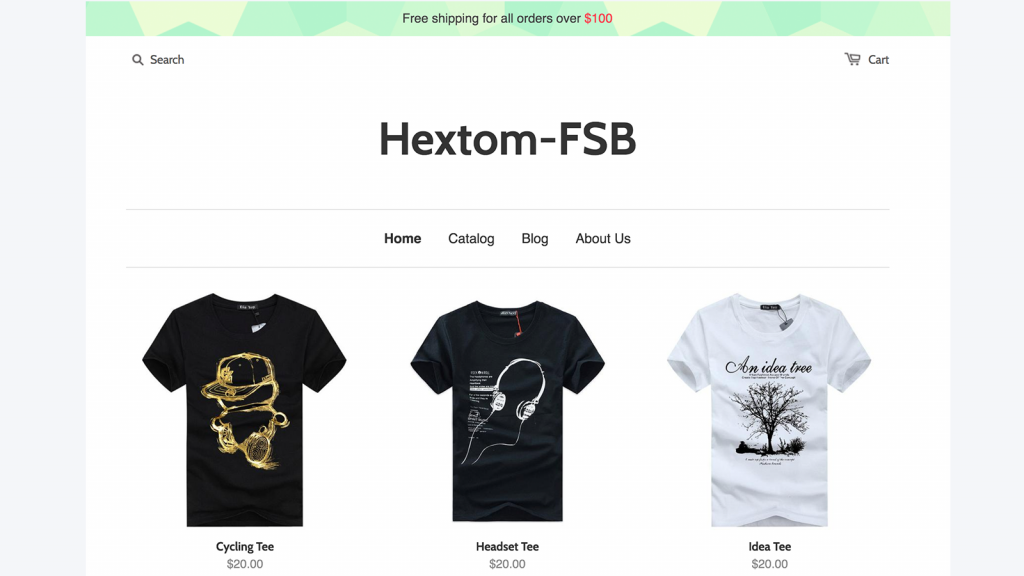 This app is pretty self-explanatory — it displays a "free shipping" bar on your Shopify site, and encourages your customers to add more items to their shopping cart to qualify for free shipping.
Every time a customer adds an item to the cart, the message updates to reflect how much more the customer has to spend to unlock free shipping.
All in all, Free Shipping Bar is a great option for Shopify store owners who want to increase their Average Order Value (AOV). Try it out for yourself!
11 – Countdown Cart
Want to reduce your number of abandoned carts, and increase your conversion rate? Conversion Cart is a nifty app that will help you out.
This app adds a countdown timer, a stock countdown, and a social proof widget to your product pages once it's installed. You can either choose to countdown till a sale ends, display how many items that are left in stock, or show statistics about how many people have viewed / bought a specific product.
The goal here is to create urgency, and motivate your customers to click on that "Check out" button!
12 – Recover Cart Pusher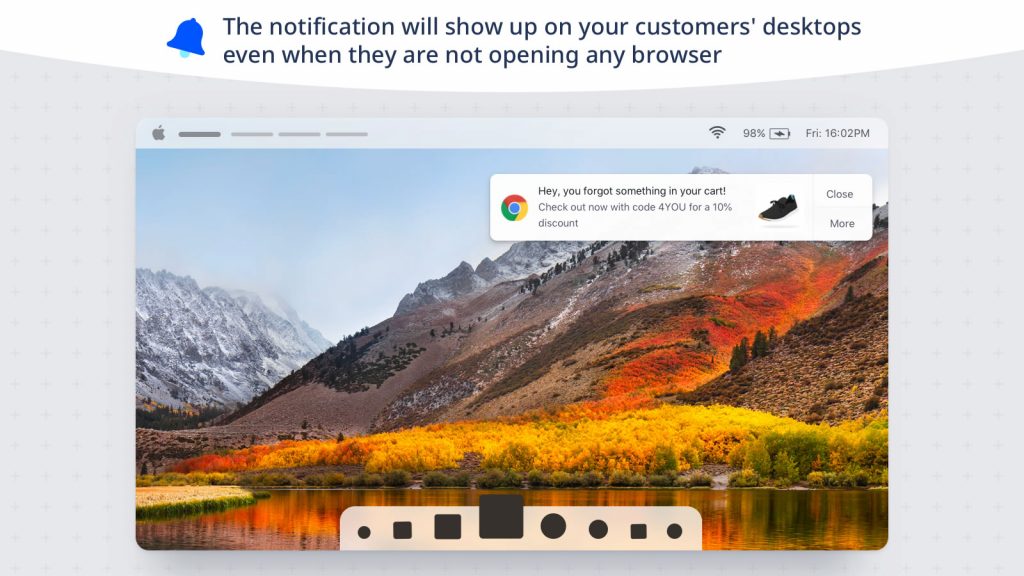 When a customer abandons their cart, does that mean you've lost that sale for good? Not if you're using Recover Cart Pusher!
This app allows you to send your customer push notifications, and encourage them to return to your website and complete their purchase. Note that these notifications are delivered straight to your customer's desktop, allowing your customer to view the message immediately. This makes the notifications a lot more effective than standard abandoned cart emails.
—
Want to customize your very own Shopify app or theme? Click here to learn more our Shopify services!