5 Best Shopify Jewellery Websites & Stores (+ What Makes Them Work)
In this blog post, we round up 5 of the best and most well-designed Shopify jewellery websites online, and walk you through exactly why they work…


5 Shopify Jewellery Websites & Stores To Steal Inspiration From
#1: By Charlotte
Top on our list of best Shopify jewellery websites is By Charlotte; this is an Australian jewellery label that specializes in bohemian-inspired pieces.
The brand's website is clean and beautifully designed, and there are several elements that make it work.
First up, the inclusion of a bar at the top (to highlight the free shipping offer) is a standard, but nice touch. We like how By Charlotte also features their contact number in this bar — this helps build trust, and gives customers peace of mind that they're a legitimate business.
Then there's the live chat widget ("Chat with us!"), which caught our eye immediately. Using live chat is an excellent strategy for eCommerce stores; according to statistics, website visitors that engage with your brand via live chat are worth 4.5x more than visitors who don't.
Upon scrolling down, you'll come upon a section that highlights one of By Charlotte's collections…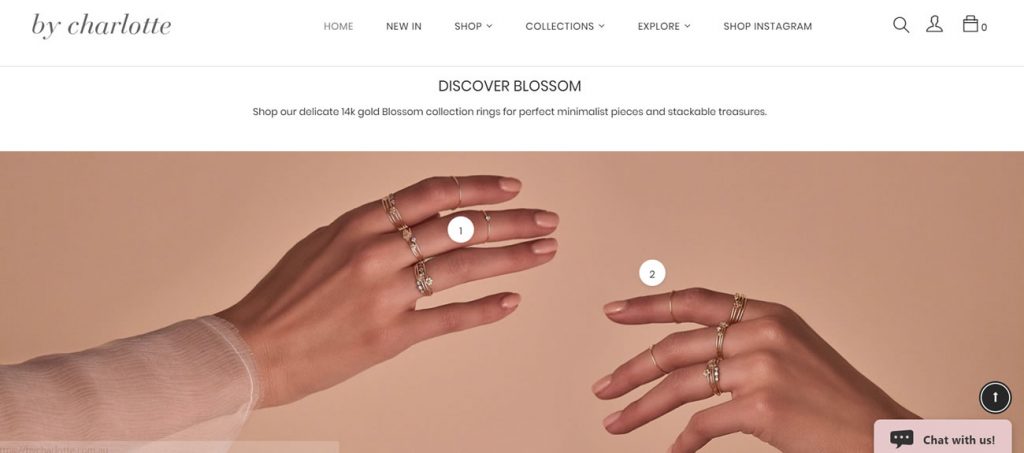 Now, when you hover on one of the circular additions, this triggers a pop-up: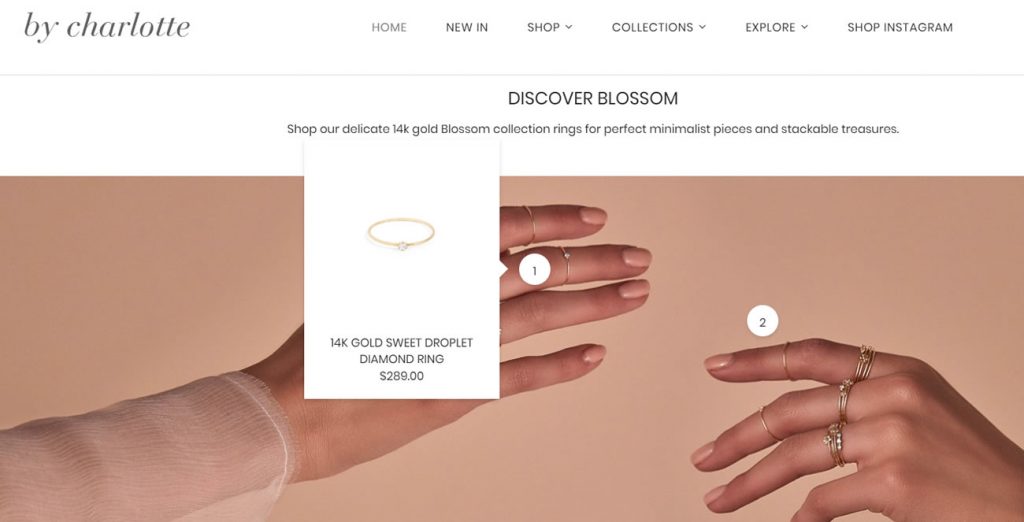 If you ask us, this is a great way of showcasing your products using a lifestyle shot, but still having it be actionable and "shoppable".
Finally, By Charlotte has a "Shop Instagram" section — this is basically a feed that pulls pictures off its Instagram account.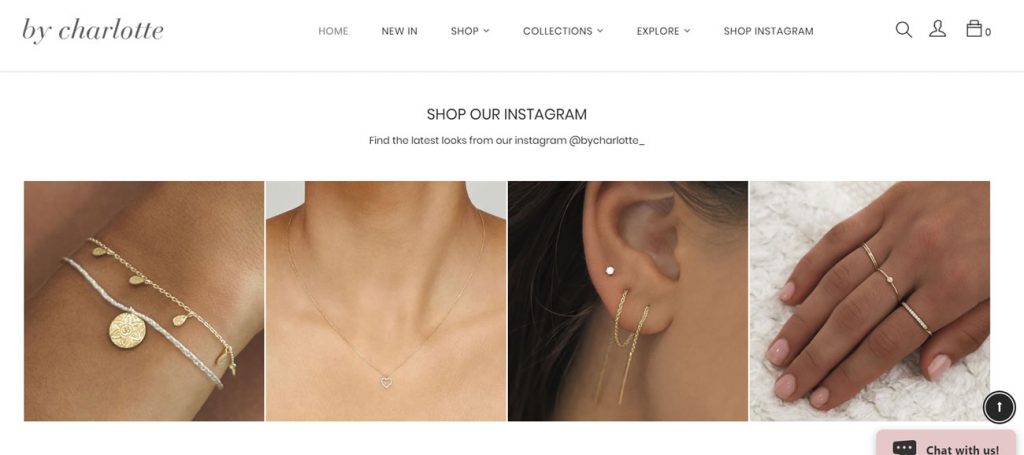 Once you click on a picture, you'll see a "Shop Now" button, and hovering over this button will trigger a pop-up displaying the name of the featured product.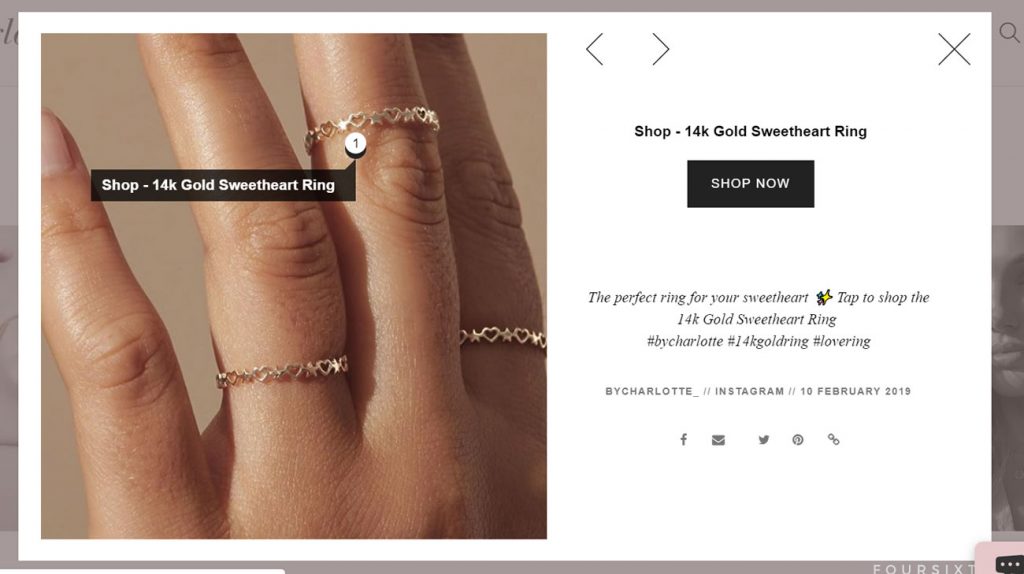 If you click on the button, this redirects you to a product page, where you can add the item into your cart.
Note: a shoppable Instagram feed might not be relevant for all eCommerce stores, but this definitely works well for eCommerce stores in the jewellery niche. If you want to set this up, there are plenty of tools that you can use, such as Snapppt.
#2: Ora Pearls
Next on our list of best Shopify jewellery websites is Ora Pearls, which is a British cultured pearl jewellery brand.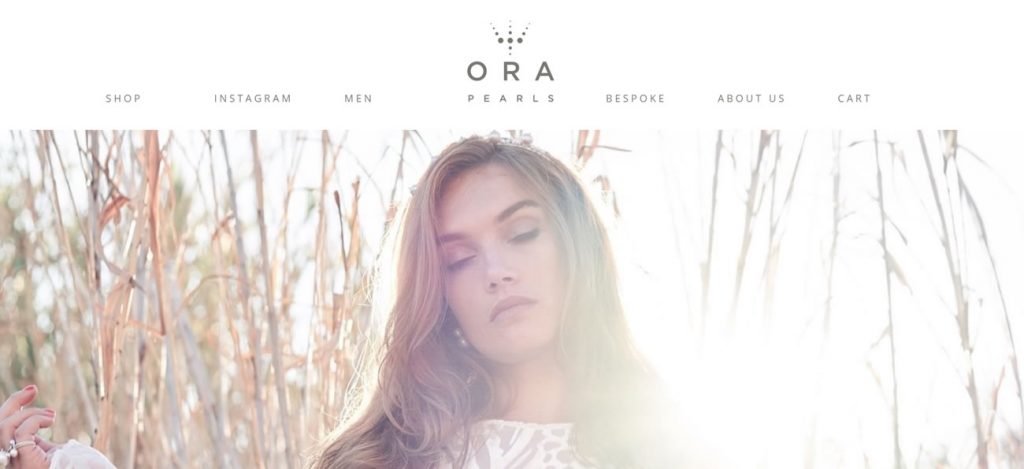 Ora Pearl's site is pretty clean-cut, and features a striking hero image. As you scroll down, you'll see that the website is laid out by categories: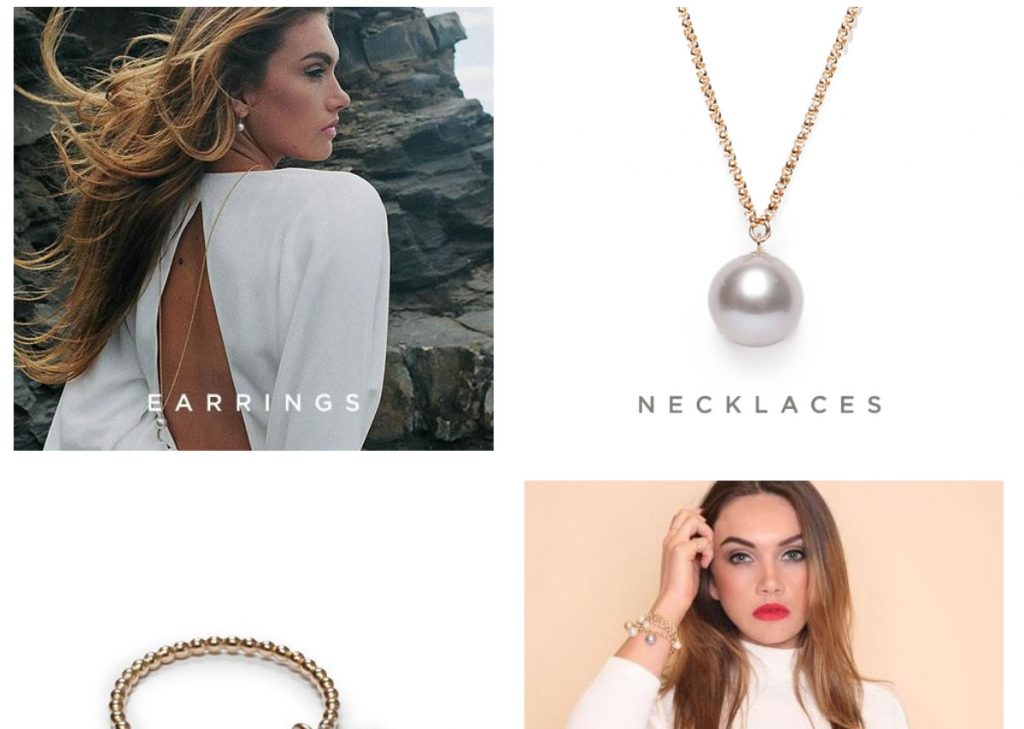 When you hover your mouse over a category, the featured image changes from a lifestyle to a product shot, or vice-versa. This is a great way to showcase different types of images, and keep your visitors engaged.
At the bottom of its homepage, Ora Pearl links to various resources, including a "Product Care" page and a "Ring Sizing" page.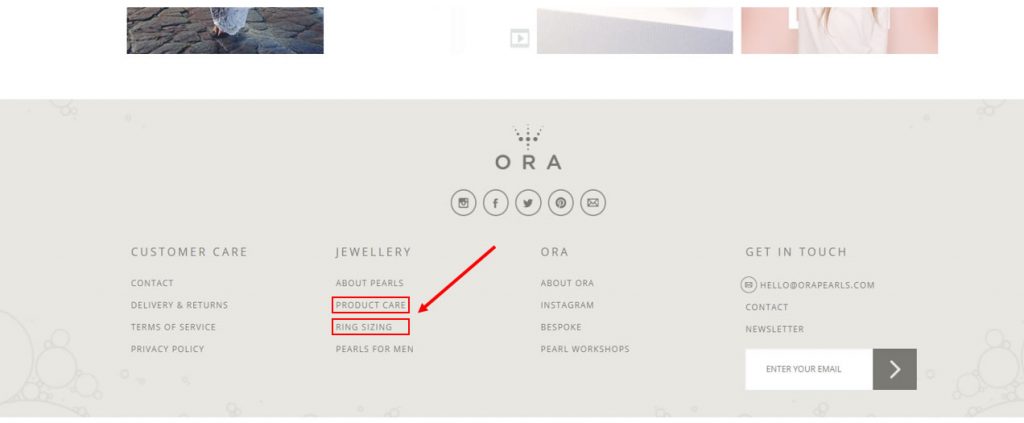 That's a pretty smart move: the more information you provide to your consumer, the more you'll help them overcome the friction associated with that initial purchase.
This is especially important for luxury jewellery brands — if you're expecting your customer to drop a few hundreds or thousand dollars on a single purchase, then it makes sense to provide them with product care information, detailed sizing information, etc.
Finally, note how Ora Pearls also has a "Pearls For Men" category in its footer: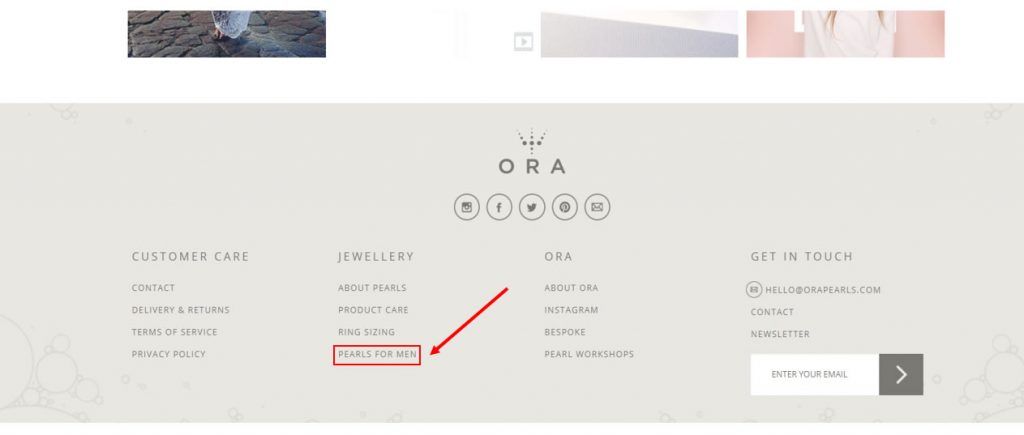 Now, you might be wondering why this isn't displayed in the main menu, or alongside the rest of Ora Pearl's collections.
If we were to hazard a guess, it'd be that the vast majority of Ora Pearl's clientele are looking for pearls for women, not pearls for men — and the brand wants to allow their website visitors to hone in on what they want.
Remember: the more cluttered your main menu or navigation panel is, the harder it is for your website visitor to internalize everything, and find what they want.
Bearing this in mind, you really want to set up a bare-bones menu that comprises of the essentials — nothing less, nothing more.
#3: Hoochie Mama
Okay, moving onto the next Shopify jewellery website that we've got on this list!
Hoochie Mama is a multi-brand jewellery and accessories store that's based in Britain. That's an interesting name they've got there, but we won't pass judgment… we're strictly only commenting on web design today! 😉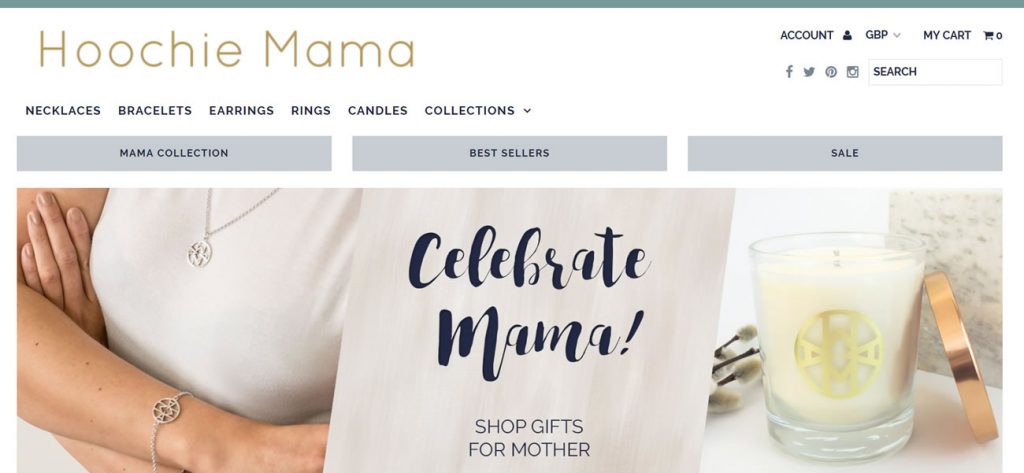 Hoochie Mama's website is laid out in a clear-cut, straightforward fashion, and we like that they've got a drop-down menu on the top right corner of the page that allows you to choose your currency.
Once you scroll down, you'll see the New Arrivals of the store. If you hover across a specific item, the product image morphs into a lifestyle shot, complete with a button that says "Quick view".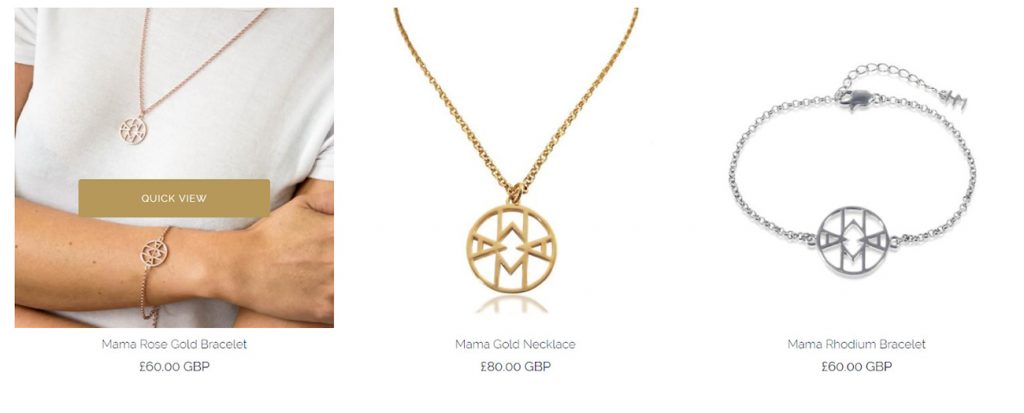 Now, let's take a look at one of Hoochie Mama's product pages: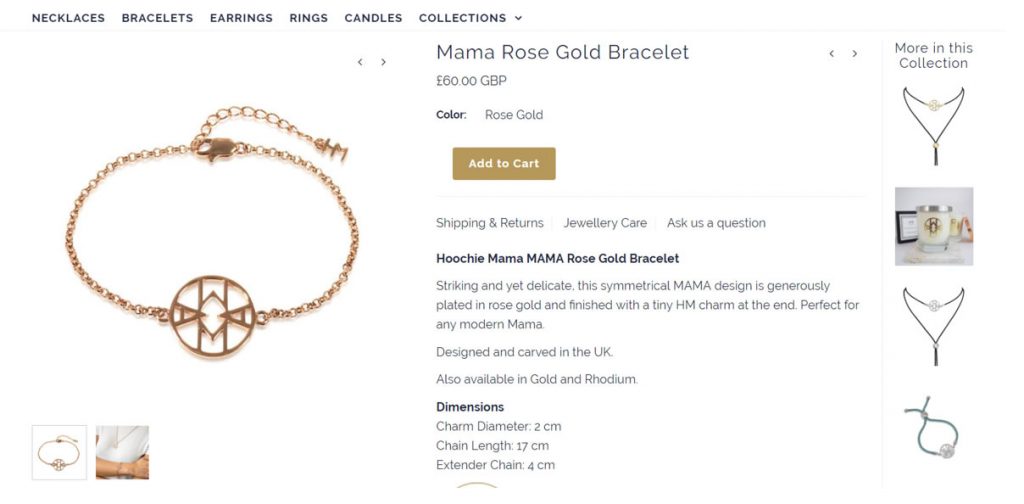 Here, you can see that Hoochie Mama is pretty detailed with their product descriptions. In these descriptions, they include:
The material of the product
The dimensions of each element, including the charm, chain length, and extender chain length
Where the product was made
Other variants of the similar product
On top of that, Hoochie Mama also includes "Shipping & Returns", "Jewellery Care" and "Ask us a question" sections on top of their product description.

This really gives you the best of both worlds. If customers want to learn more, they can simply click on the relevant to trigger a pop-up. At the same time, customers who aren't concerned with this information won't be greeted with an intimidating wall of text.
#4: Tatty Devine
Next up, we have Tatty Devine, a fun UK jewellery brand that's larger than life.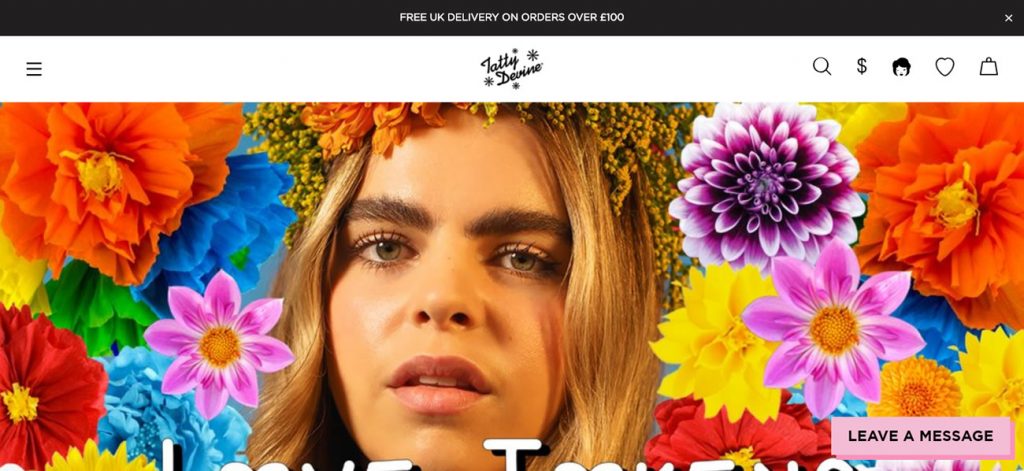 As you can see, this Shopify jewellery website is bold, colourful, and in-your-face.
Like By Charlotte, they've got a bar highlighting their free shipping offer at the top of their website, and a chat bar that customers can use if they've got any enquiries.
One thing that we noticed is that Tatty Devine's got a pretty interesting navigation panel featuring unique icons (especially the doll — we don't think we've seen that anywhere!)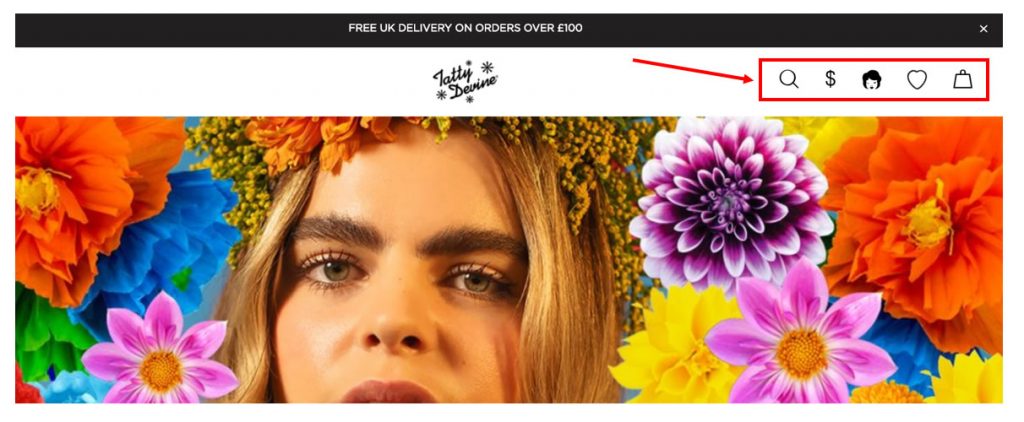 What we like, though, is that Tatty Devine doesn't sacrifice clarity in an attempt to be original. Check it out: when you hover across the individual icons, you get an explanation of where each icon redirects you…

Clicking on the hamburger icon on the left of Tatty Devine's logo opens up a more detailed menu; here, you can see all the different collections at a single glance: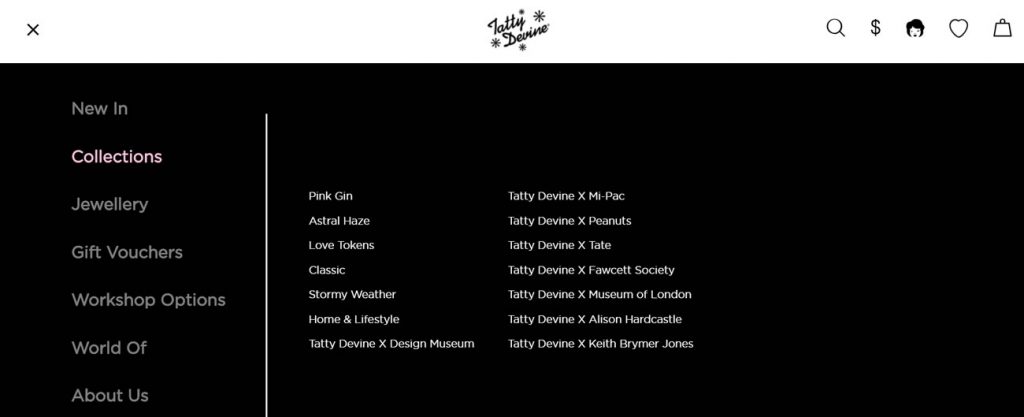 Head to any collection page, and you'll notice that you have the option to add an item to your cart immediately, without first navigating to its product page.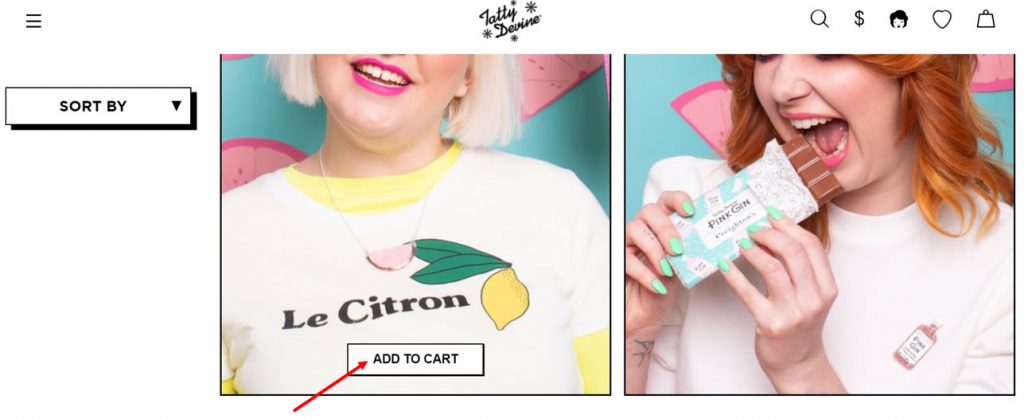 This is a pretty nifty trick — it reduces the friction associated with a purchase, and encourages a higher Average Order Value (AOV).
#5: Luilu Jewellery
Luilu is a jewellery brand based in Barcelona, and we've got plenty of great things to say about their website.
First, note how their hero image plugs their Valentine Day's products. Generally speaking, it's a great idea to update your store's banner or hero image to reflect whatever major holiday is currently ongoing — especially if you're running a special promotion, discount or launch.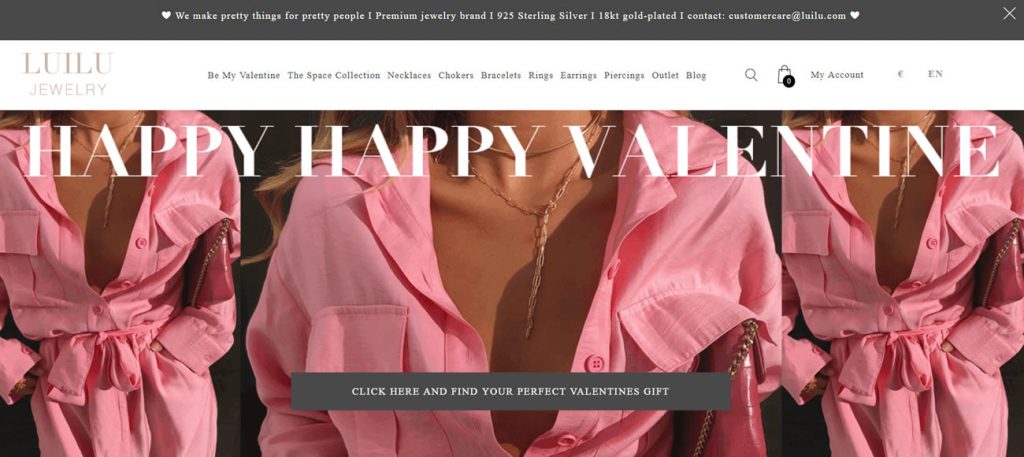 Moving on to talk about Luilu's collection page… here, the brand utilizes badges to display their product's statuses, which definitely improves their customer's User Experience (UX).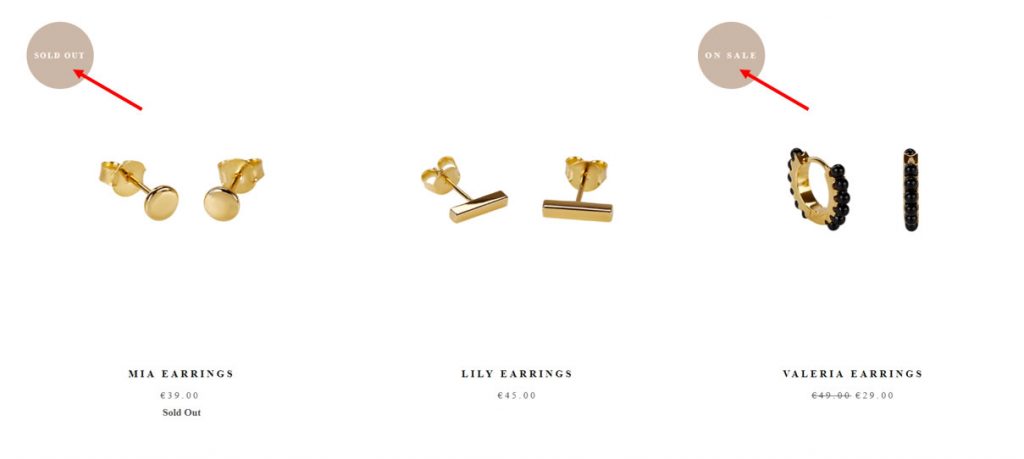 Think about it this way: why make your customer click into a product page, only to be disappointed that a product is sold out — when you can display this information upfront on your collection page?
Finally, when it comes to Luilu's product pages, they feature images of their products in multiple angles, which is always good to do.
If you scroll down, you'll see a product recommendation section that promotes additional items to customers, based on what they've just viewed: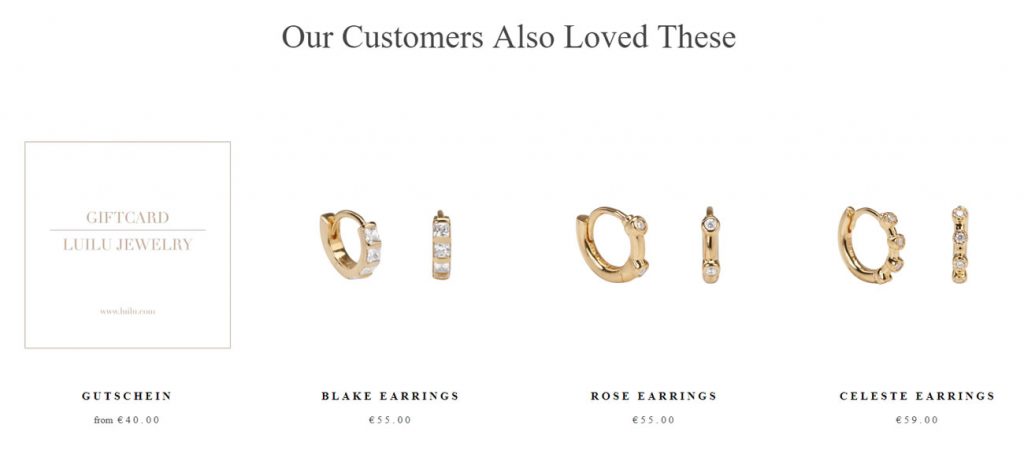 Like one-click checkout, this increases your Average Order Value, and boosts your revenue!
—
Want to build your very own Shopify jewellery website? Click here to learn more about our Shopify services!